The University of Surrey were proud to host BUCS Indoors for the fifth year running. This year we had over 130 athletes compete in the University Indoor Rowing Series 2019. The day consisted of the senior athletes completing a 2km erg race and the development athletes completing a 1km erg race.
The first heat was the heavyweight senior men where we had four USBC athletes taking part – Mantas Volkauskas, Sam Griffin, James Humphreys and Joe Burnford. It was a strong first race for all the men which set the day up nicely for the remaining events.
Heavyweight men results:
1st – Callum Dixon
2nd – Archie Drummond
3rd – Nick Luck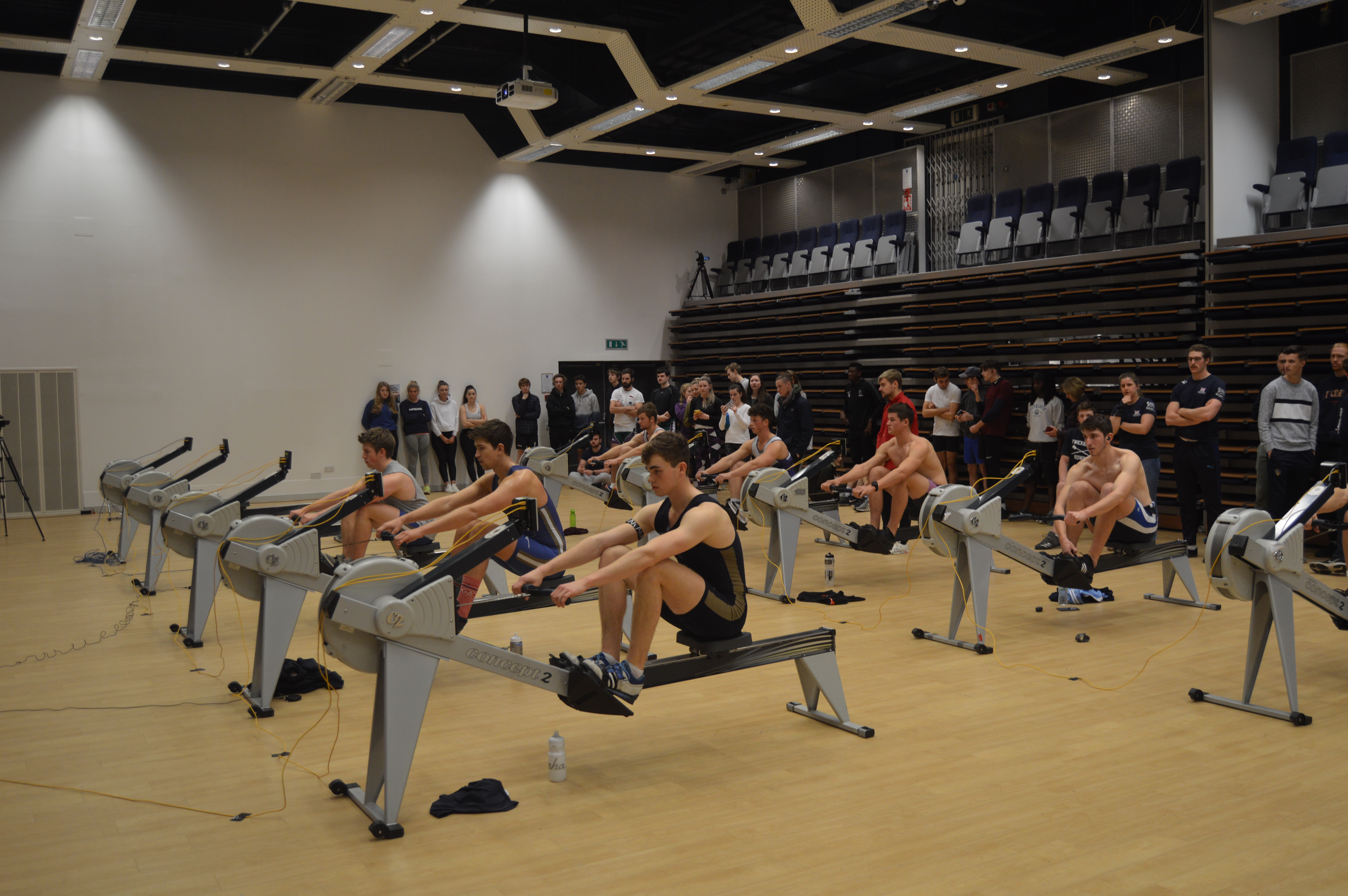 It was then the turn of the heavyweight women where there were six USBC athletes competing – Cecile Flavin, Maddy Brown, Alyssa Mather, Rehmat Goodwin, Fiona Norris and Rowena Harrison. Just like in the men's heat, all the women performed well with Alyssa coming away with a huge 17 second personal best. Cecile also did well and came second overall out of the twelve heavyweight women who competed.
Heavyweight women results:
1st – Lucy Kelly (University of Kent)
2nd – Cecile Flavin (University of Surrey)
3rd – Karina Steenberg (University of Portsmouth)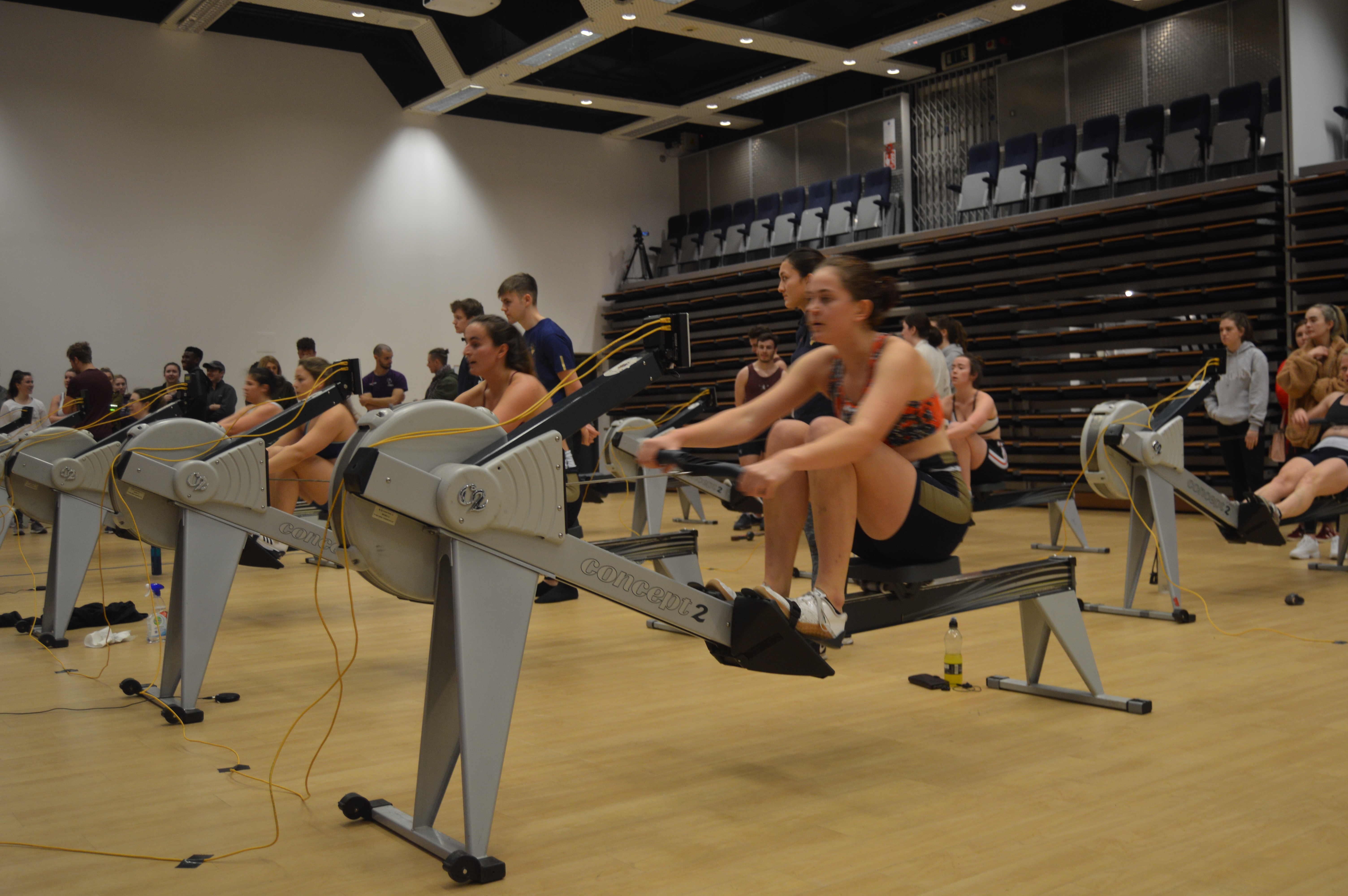 Once all the heavyweight athletes had competed, it was time for the lightweights. The men were up first which saw three USBC athletes compete – Jamie Gamble, Conrad Forbes and Alex Long. All three men had strong performances. Jamie and Alex battled it out for the whole 2000m, trading first and second places the whole way. It was Jamie that came away with the win and a six second personal best. Alex also got a huge personal best of 10 seconds.
Lightweight men results:
1st – Jamie Gamble (University of Surrey)
2nd – Alex Long (University of Surrey)
3rd – Ed Wilkinson (University of Portsmouth)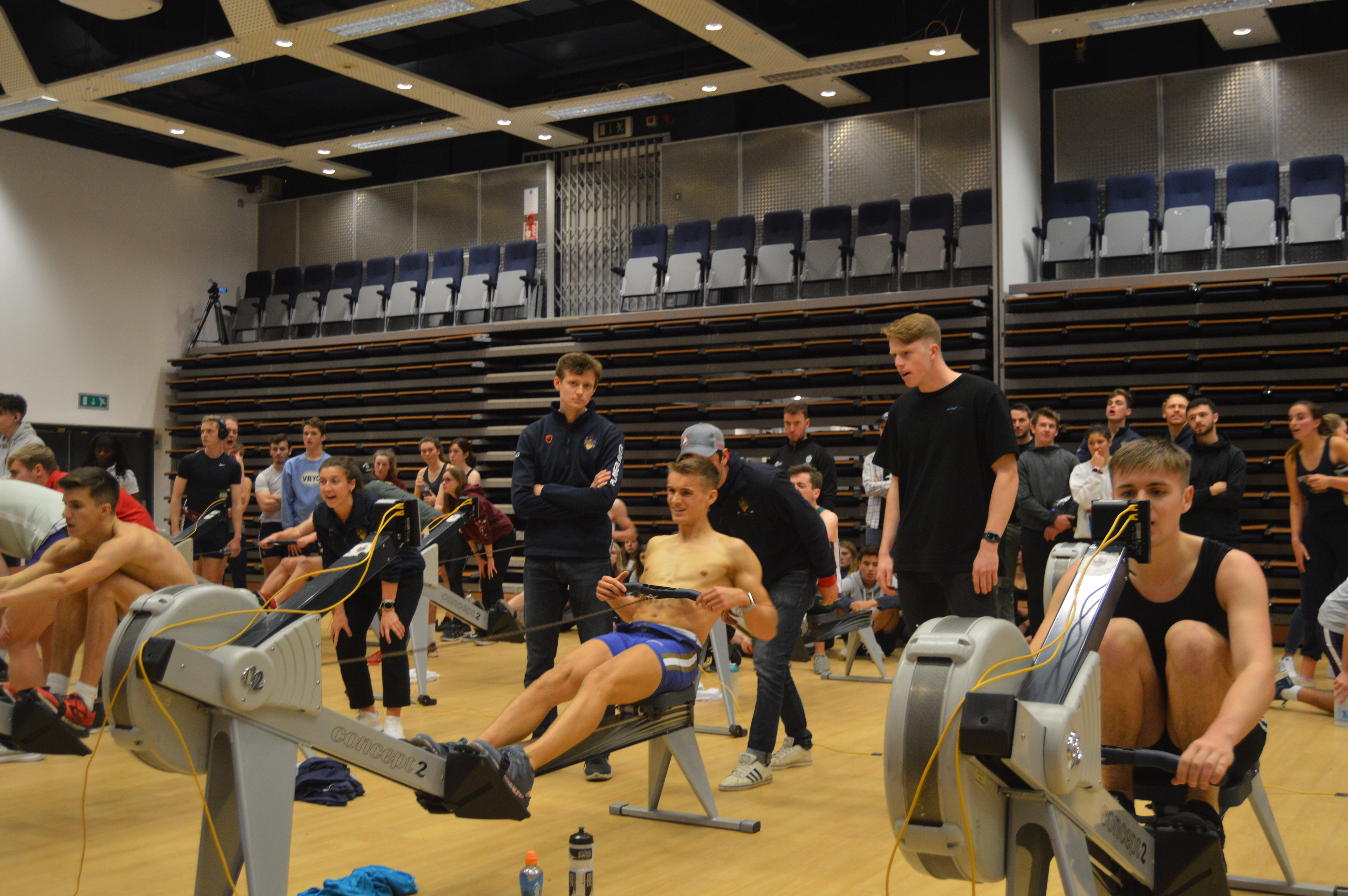 The lightweight women then took their positions on the ergs. USBC had four athletes competing in this category – Marnie Ridley, Eloise Singham, Elisavet Palaiologou and Issy Davey. It was a competitive race throughout with some exciting results.
Lightweight women results:
1st – Eloise Singham (University of Surrey)
2nd – Marnie Ridley (University of Surrey)
3rd – Issy Fowles (University of Portsmouth)
Having had all the seniors raced, it was now time for the beginner athletes to have their first taste of a BUCS competition.
The beginner men were up first with a great turnout of 20 USBC athletes taking part – George Rendell, Jack Webber, Alex Young, Ben Sealey, Adam Moon, Manuel Bradicic, Miro Blicharz, Joseph Wright, Alex Hambly, Ethan McGowan, Luca Maramotti, Tom Fortnum, Manzoor Safi, Cullum Attwell, James Shorthouse, Ben Wall, Will Taylor, Owen Hapgood, Yash Lakhwani and Andrew Jackson. All of them had a brilliant first BUCS race with three Surrey boys taking gold, silver and bronze.
Beginner men results:
1st – George Rendell (University of Surrey)
2nd – Jack Webber (University of Surrey)
3rd – Luca Maramotti (University of Surrey)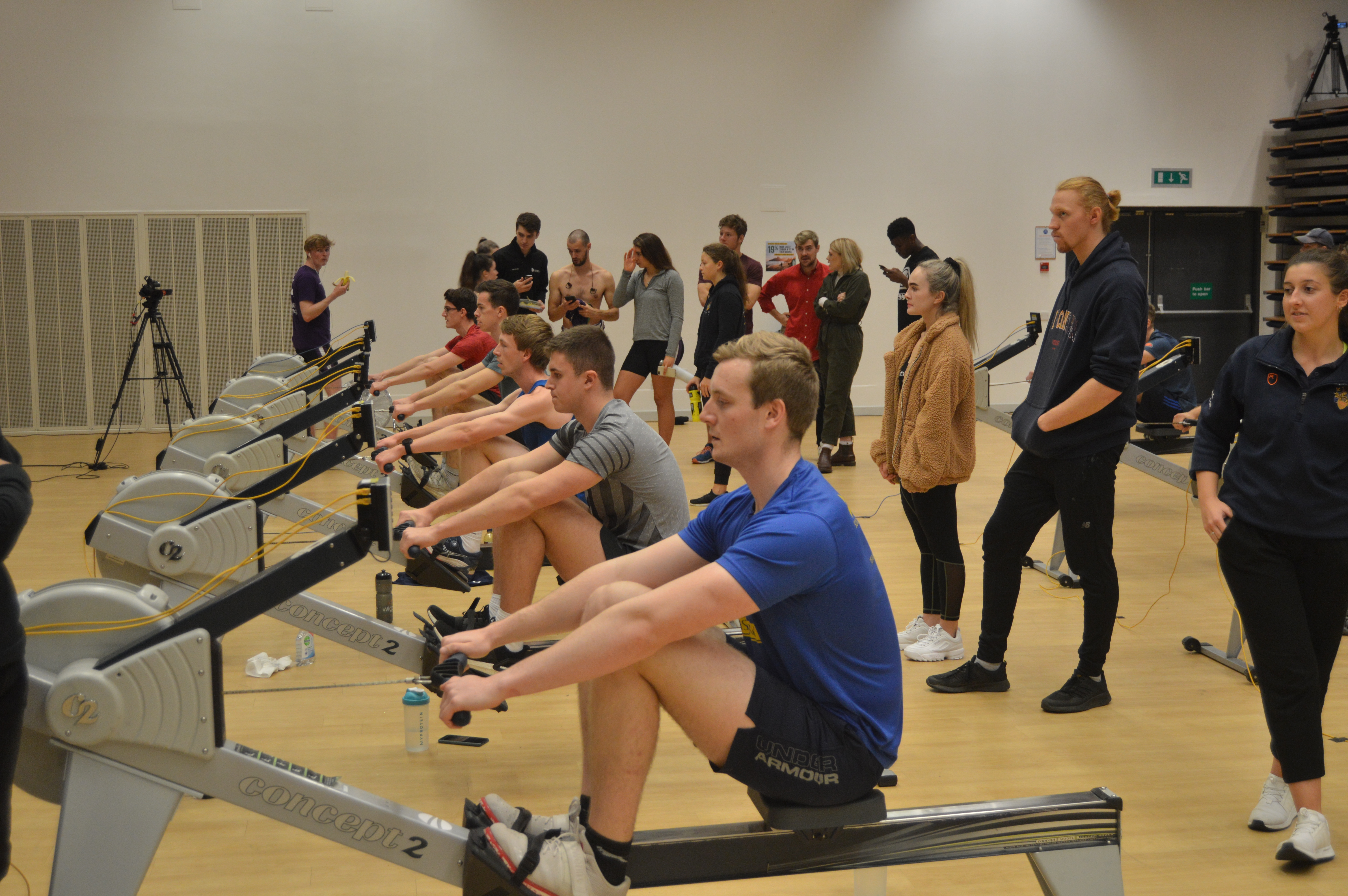 There was also a huge turnout of USBC beginner women with 22 athletes taking part – Nadia Mohammed, Aleks Kusinska, Chloe Shaves, Charlotte Smith, Eloise Deacon, Chaneille Gaynor, Jodie Wickers, Sophie Pavitt, Opri Martin, Bella Curd, Victoria Koch, Harriet Williams, Emily Davenport, Jessika Davis, Catie Bowers, Lorena Symes, Olivia Beecheno, Tyler Horn, Yasemin Us, Alice Cottis, Florrie Talty-Sanghera and Chloe Davis. All of the girls showed a strong performance for their first erg race, with Aleks getting herself up on the podium with a silver medal.
Beginner women results:
1st – Hannah Knapton (Team Surrey Football)
2nd – Aleks Kusinska (University of Surrey)
3rd – Amy Davies (Royal Holloway University)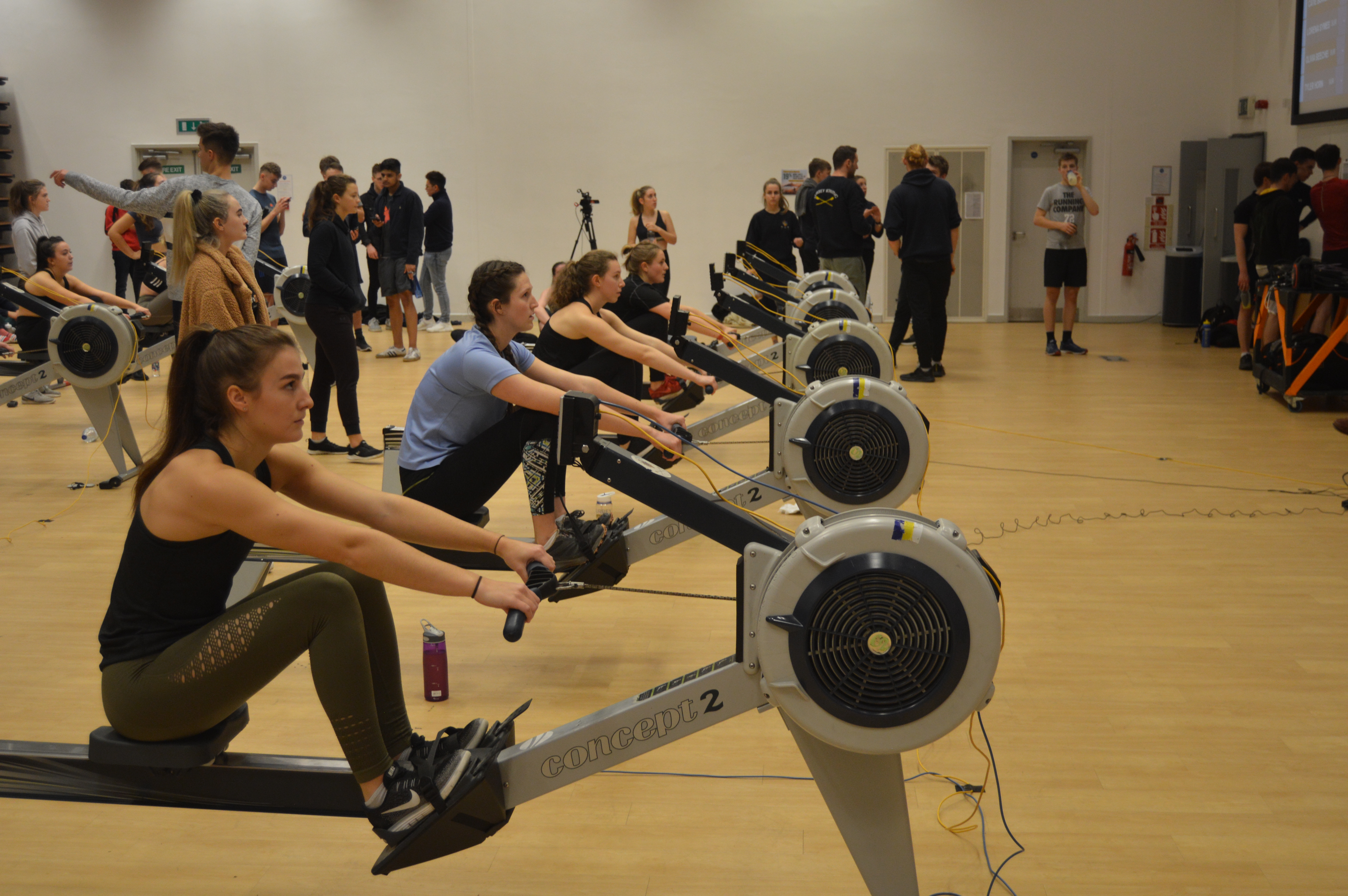 After a tough day of 2km and 1km races, it was then time for the relays as a fun way to round off the day. It consisted of teams of four racing for 2km on the erg. USBC got wins in both the men's and women's relays. A great end to a very successful day of racing.
Overall, it was a hugely successful day for all of USBC and everyone else involved. It proved to be a successful start to the season but with plenty of things that can be taken away and worked on.
Big thanks to Dan Hetherington from British Rowing and Stag TV for their help in the organisation and the live-streaming of the event. If you missed the event or want to watch your race back, the livestream can be found on our Facebook page, University of Surrey Boat Club.