Marlow Regatta is one of the largest multi-lane regattas held in the UK, attracting a huge entry from clubs all over the world who are preparing for Henley Royal Regatta. 
On Saturday 22nd June, whilst the girls were at Henley Women's Regatta, the men's squad travelled to Eton Dorney to compete in 3 events: University 8s, 'Fresher' 8s and University 4s.
The Fresher 8 category is a new trophy available at Marlow Regatta. It is open to crews who contain at least 6 beginner rowers who have joined the institution within the same academic year. Having had an extremely successful season, the development contingent of our Academic 8 'doubled-up,' and were entered to race in multiple events throughout the day – with the aim of winning the Fresher 8 title. Establishing an early dominance, the boys took 1st place on the podium once again, resulting in USBC's first ever win at Marlow Regatta! The beginner men finish their season having never being defeated in any novice event they have raced. 
Fresher 8: Ellie Hamilton-Davies (cox), Samuel Griffin, Ryan Hill, Sam Bodkin, Cameron Wheeler, Bruno Grandjean, Tom Powders, James Humphreys, Jamie Gamble – 1st place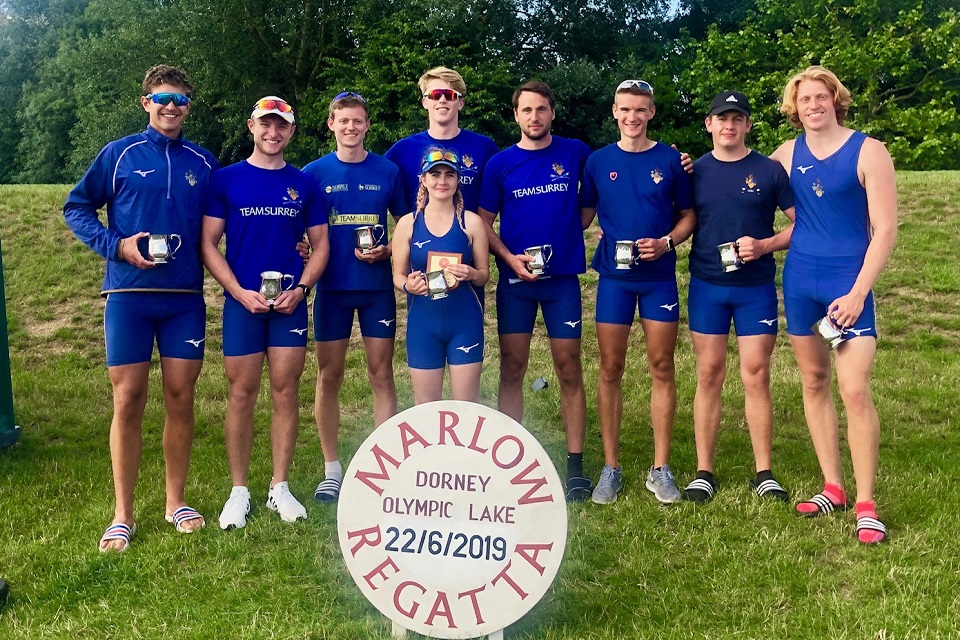 With 6 of the Fresher 8 also racing in the Academic 8 category, the squad maximised recovery time on what was an unusually hot day. The boys attacked their time trial, earning them a place in the 'A Final.' The top 6 finish earned the crew pre-qualification for Henley Royal Regatta, where they will be competing in the Temple Challenge Cup. 
Academic 8:  Ellie Hamilton-Davies (cox), Samuel Griffin, Lukas Schroth, Sam Bodkin, Cameron Wheeler, Bruno Grandjean, Tom Powders, Wilson Sandengu, Jamie Gamble – 6th place
The University 4+ had a tough day of racing and earned a place in the C Final after their time-trial. Sparring down the 2 kilometre course, they ended up in 3rd place behind some good Goldie (Cambridge) and Liverpool crews. The boys gained worthwhile race experience which they will look to use at the Henley Royal Regatta qualifying races on Friday 29th June as they fight for their place in the Prince Albert Challenge Cup. 
Academic 4+: Elisavet Palaiologou (cox), George Glenister, Ryan Hill, Mantas Volkauskas, Shahbaz Kamran – 3rd place in C Final
The club now moves its focus to competing at Henley Royal Regatta (3rd-7th July).