On Friday 15th February, 17 athletes from the dev squad made the long journey up to Newcastle. They had their first race fixture on the Saturday competing in Tyne Head. A men's 8+ and women's 8+ were both entered in the Tier 4 category with high hopes of big finishes for both boats. It is safe to say that neither disappointed – both squads came away with a win in their category with the boys winning by 79 seconds and the girls winning by 10 seconds. A solid victory for both crews!
Men's competitors:
Tyne United Rowing Club, Durham University Boat Club, Lancaster University Boat Club and Tyne Amateur Rowing Club.

Women's competitors:
University of York Boat Club (two boats entered), Hatfield College Boat Club and St. Andrews University Boat Club.
See what some of the athletes had to say about their first racing experience.
Development Men's 8+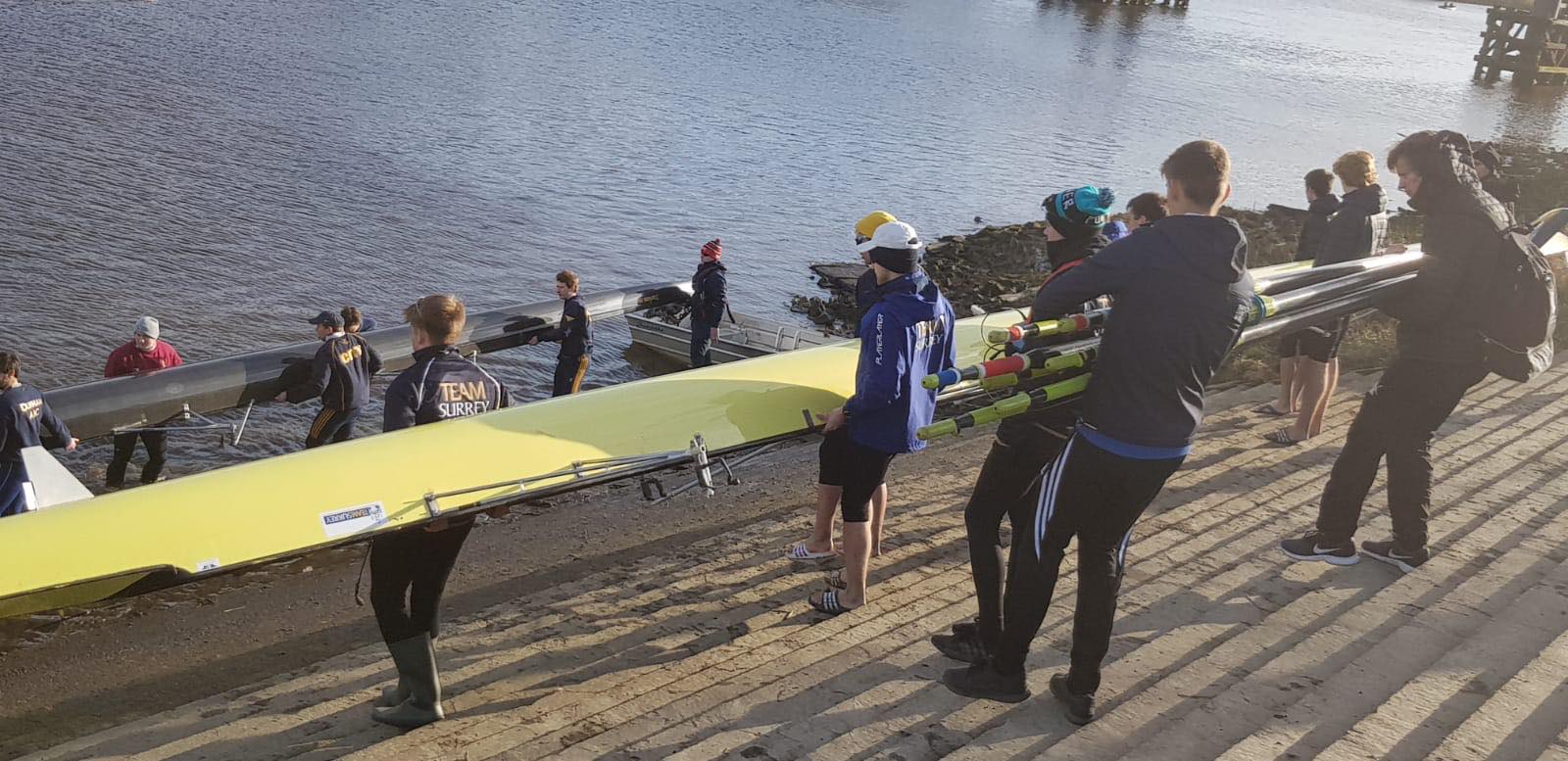 Tommaso Rognoni – Bow seat
"Travelling all the way to Newcastle and winning the category of our first race is a demonstration of how hard work and determination really pays off. It was an overall amazing experience which we won't forget and that has shaped us even more as a team."
Alex Long – Two seat
"I thought it was a great weekend and everyone performed really well together allowing us to excel as a team. It enabled us to gain great experience giving us great encouragement for the future. Most importantly, it showed us that all our hard work over the past few months is paying off!"
Tom Powders – Three seat
"The race was nerve-racking, all the training we had done so far was building up to this point. It was a relief to compete so well and get a gauge of how we compared to other teams. Overall, the weekend was the best I've had so far as part of the rowing team and I can't wait to race again!"
Bruno Grandjean – Four seat
"Our weekend in Newcastle was a great opportunity to put five months of training into practice and to test ourselves against other crews. You always remember your first competition and what better way to start the season than to win."
Cameron Wheeler – Five seat
"Couldn't have had a better first race. The thrill of the build up at the start and the satisfaction at the finish knowing you've done well explains why we put in so much work. So proud to be racing with the boys. Can't wait for the next one!"
Sam Griffin – Six seat
"This weekend was the first of many leaps and bounds to come over the next few months and it has further strengthened our determination to succeed at the highest level possible.
I've never seen a group of guys as overwhelmed with pride as I did on the water that day. It is a sensation I doubt I will ever forget and one I will be forever chasing to feel again. We have a big year ahead of us and I can't wait to show the world what we can do."
Ryan Hill – Seven seat
"Getting the opportunity to experience what racing is like has created a new level of enjoyment for the sport. It's great to see months of hard work pay off, and it gives me a lot of confidence and excitement for the upcoming races throughout the rest of the year."
James 'Pinto' Humphreys – Stroke seat
"Great performance by everyone. Was great that everyone turned up with heads screwed on and focused. No messing about and we all brought our A game. It was nice to see all our hard work over the last couple of months be put to good use and to take home the win."
Development Women's 8+
Amelia Simpson – Two seat
"The weekend definitely exceeded my expectations and it was great to be given the opportunity to show what we could do!"
Yasmin Ball – Three seat
"The Newcastle trip was a great opportunity for us to experience racing for the first time before we go to BUCS Head. We gained lots of information on how we can improve as a team over the next few weeks. If given the chance, I would definitely go again, however next time I would definitely take wellies!"
Molly Whitaker – Five seat
"Apart from taking more note of the coaches 'welly' recommendations, I wouldn't change our first race weekend in Newcastle for anything. Nerves came and went, as did the waves, but both Dev squads put their all into their races and came away with a win in their categories. The weekend has left us striving to train harder for the upcoming race season!"
Xiaohan Ma – Six seat
"The race was such an amazing experience, the adrenaline, the pain throughout the 4.5km and the feeling of winning are all precious moments I have taken away from our first race. All of the above now drives me to be even better and work harder to beat our competitors and most importantly to surpass my own scores."
Marnie Ridley – Stroke seat
"Racing for the first time was really exciting! I was nervous beforehand but when we got to the start line I was filled with adrenaline – I would do it a million times over! I'm so happy to have found something I'm really passionate about and racing at Tyne Head has made me excited about what we can do at BUCS Head in a couple of weeks!"
Alyssa Hughes – Cox
"I definitely think the weekend was a success! Getting to knock off some of the newbie rust definitely helps in moving forward to bigger races such as BUCS Head and WeHORR. The race itself was really cool to experience and was a great way to meet other novice rowers going through a similar experience."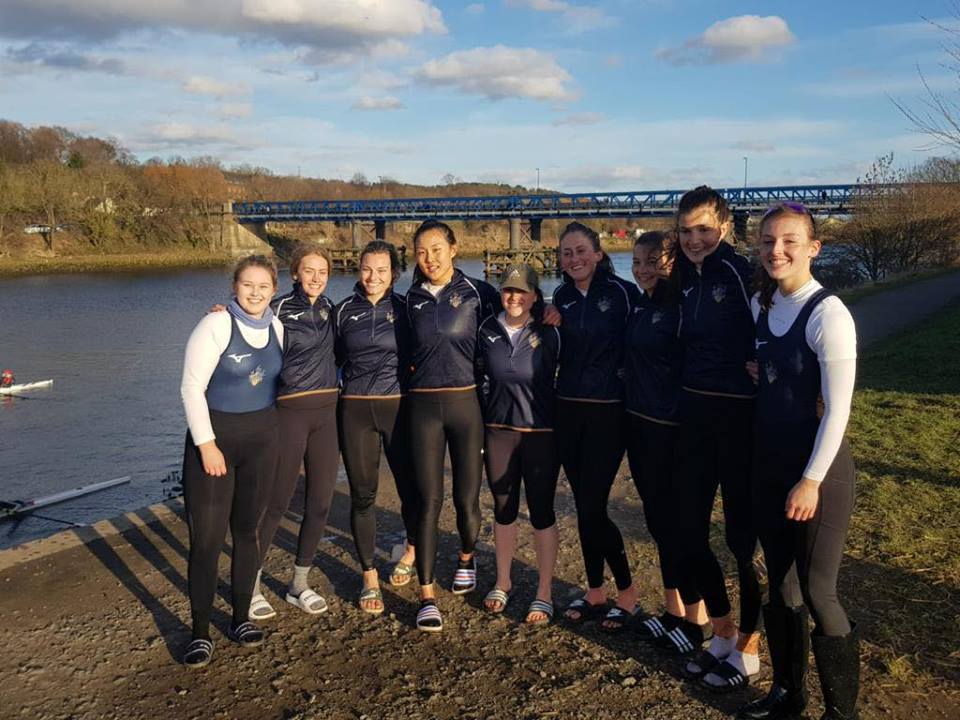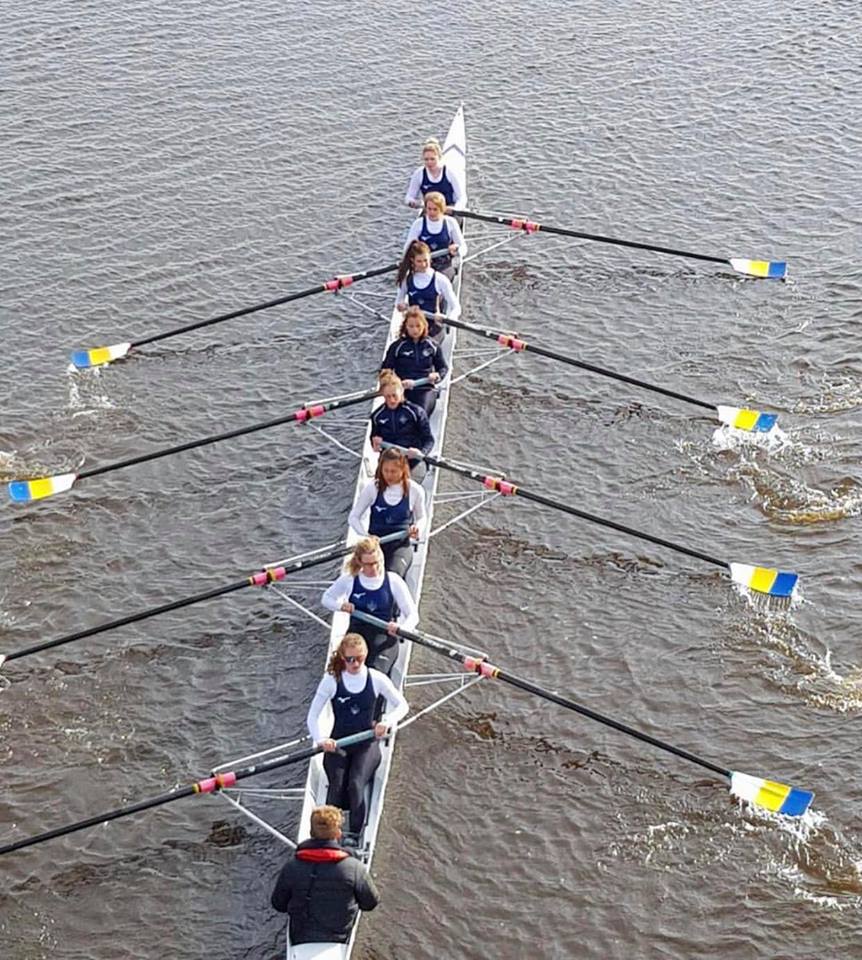 Overall, it was an extremely successful weekend for the development squad and the rest of USBC are extremely proud!
Next stop.. BUCS Head!!