On the 12th and 13th August, USBC hit up Peterborough 'International' Regatta along with our friends at Molesey Boat Club for a weekend of racing, pizza and plenty of classic old-school tunes.  
Racing on Saturday, over a distance of 1000m, our women's 4+ made up of Jasmine Bone, Jenna Charman, Megan Pearson and Sophie Hossack, coxed by Laura McDonald started well, coming second in their heat and then winning their semi-final.  However, they just missed out on silverware in the final as were beaten to first place by a strong Peterborough/Norwich composite.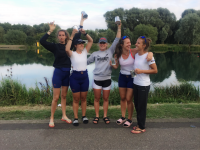 Winning Women's Coxed Four of Jenna, Ellie, Emma, Megan & Jas
After a night well spent in Flares, Sunday brought the 500m racing where our women's coxed four was hoping to get the win they just missed out on the day before.  There were a couple of changes from the day before, with Ellie Stevens switching into the bow seat and Emma McDonald now in the cox's seat.  The crew won their heat and then went onto take the win in the final with a time of 1.52.7 ahead of the boat from Cambridge 99, earning them some silverware to take home.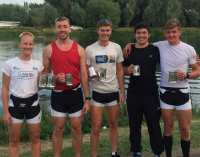 Winning Men's Coxed Four of Jonna, Alex, Ali, Tom & Dom
Meanwhile, Ali Douglass, returning from his bronze medal win in the GB men's eight at the U23 World Rowing Championships, won in the coxed four events on both Saturday and Sunday, as well as in the mixed eight for Molesey – in which they set a new course record! Alex Law also featured in the winning coxed four with Ali on Sunday while Jasmine Bone took her weekend pot total up to 2 as part of the mixed eight.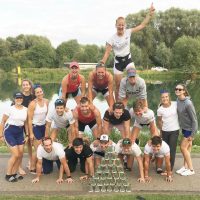 Molesey & Surrey Pyramid of People and Pots