Peterborough City Summer Regatta took place on 11th and 12th August. On Saturday, races were held over 1km and over 500m on Sunday.
First up to race on the Saturday were 3 singles, Maddy Brown, Megan Pearson and Ben Radcliffe-Brown. They were followed by the men's 4+ racing in tier 1, compromised of Ali Douglass, Chris Homes, George Glenister and Shahbaz Kamran, coxed by Abdel Abdalla. Shahbaz and Chris only took up rowing in October, therefore, they enjoyed the opportunity to race with a world medallist and HPASS athlete Ali Douglass. They finished 2nd in their race. Shahbaz commented:
"It was a great opportunity racing with Ali and I learnt a lot from the experience, it's great that we were given the opportunity at USBC to row alongside world class athletes."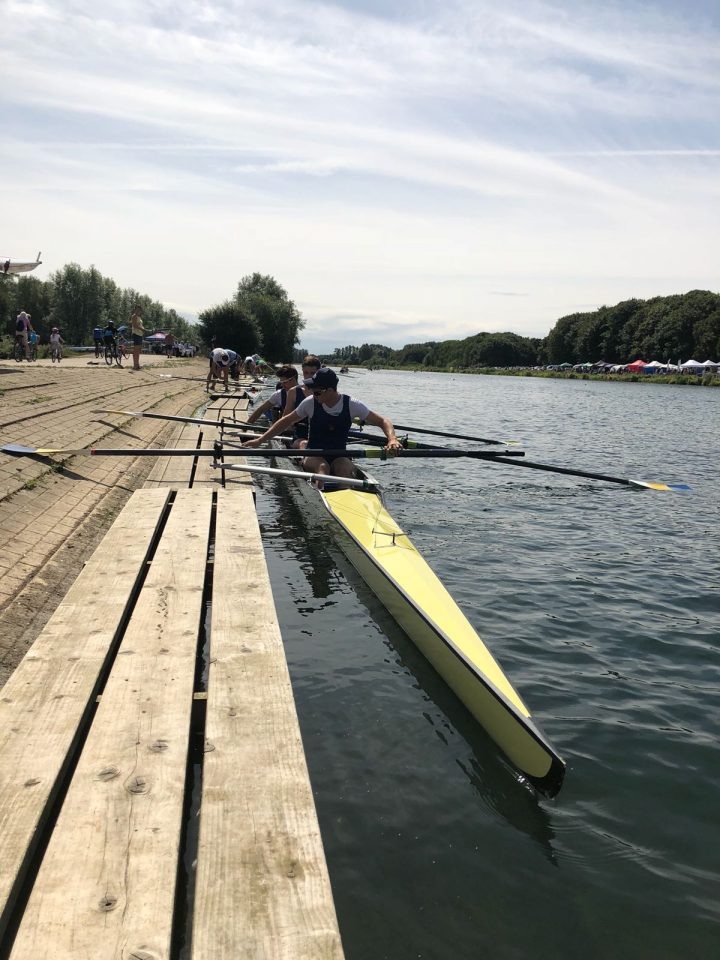 The final race of the day was the women's 4+ racing in tier 1. The crew was made up of Jasmine Bone, Maddie Gardner, Sophie Hossack and Ellie Stevens, coxed by Lana Dehoop. The girls had previously had a strong campaign leading into Women's Henley Regatta where they reached the semi-finals, and thus were excited to get back into the boat together. The had a strong race and won it, and were the fastest W4+ of the day.
The Sunday started again with 3 singles racing, this time it was Ben Radcliffe-Brown, Maddy Brown and Shahbaz Kamran. Both Maddy and Shahbaz developed their skills in sculling over the summer and were happy with their performances. Ben came first in his heat, progressing straight to the finals where he finished second. A mixed 8+ also raced which was a scratch crew of Jasmine Bone, Fiona Norris, George Glenister, Mantas Volkauskas, Wilson Sandengu, Chris Homes, Sophie Hossack and Lana Dehoop, coxed by Ellie Stevens.
The afternoon saw another men's 4+ race in tier 1, composed of Mantas Volkauskas, Chris Homes, George Glenister and Abdul Abdalla, coxed by Ali Douglass. They finished 2nd behind Molesey Boat Club. The Molesey crew included Surrey athlete and senior men's captain 2017/18 Alex Law, who also took a win in the Molesey M8+ alongside Surrey athletes Maddie Gardner and Ali Douglass.
The women's 4+ who had won their race the previous day also were up to race again in tier 1. The girls progressed through the heat and into the final. Club President Sophie 2018/19 commented:
"It was great getting the opportunity to race in the 4+ again and taking the win on Saturday. Overall Peterborough Regatta has been a great way for athletes to gain more race experience and bring the squad closer together. I am looking forward to the upcoming year."
We would also like to congratulate Molesey Boat Club who won the Victor Ludorum for being the most successful club over the two days.