Rounding off the 2016/17 season, USBC set out on home waters on 15th July to race at Molesey Regatta. With a mix of crews entered it was set to be a fun day for the squad.
First to race was Holly Stemp and Rachel Pritchard, fondly known as Bant and Dec, in the women's IM3 2x. The girls had a difficult beginning with a restart needed. The second attempt saw the girls fight hard but sadly they lost to the crew from Mortlake Anglian and Alpha Boat Club with a verdict of 1 1/2 lengths. Nevertheless, the girls enjoyed being back on the river and were ready to go again in division 2.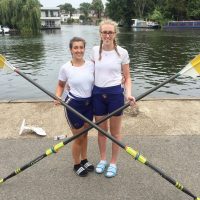 Ellie and Charlotte – WIM12x
Next up was our new president for 2017/18, Ellie Stevens, and secretary Charlotte Gill racing against Weybridge in the final of the WIM1 2x category. The crew managed to get their bow in front and hold off the opposition to win by 1 1/4 lengths. This set the tone for the following race of WIM3 4+ with Jasmine Bone, Fiona Norris, Jenna Charman, Sophie Hossack and volunteer cox Kieran Dibley. The girls faced a strong Vesta RC crew in their final but the USBC crew proved to be stronger and won by a margin 2/3 of a length.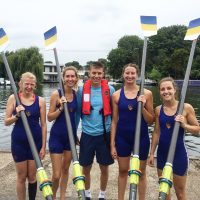 Fiona, Jenna, Kieran, Sophie, Jas – WIM34+
Division 2 was the chance to have a bit more 'fun' and race in a mixed 8 so with Jenna coxing the crew, Charlotte, Alex Law, Mantas Volkauskas, Ellie, George Glenister, Kieran Dibley, Jasmine and Holly found themselves on the start line next to a Molesey BC crew featuring coach Sam Tuck. The Surrey crew surprised the Molesey 8 but putting up a fight out of the blocks with Molesey unable to move away from USBC in the first couple of hundred of the 850m course. However, eventually age and experience paid off and the Molesey crew pulled away from the Surrey boat to win by 3 lengths.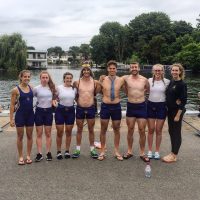 Jas, Polly, Ellie, George, Mantas, Alex, Charlotte, Jenna – Elite Mixed 8+
Next up was an WIM3 4x crew made up of Aoife Luscombe, Lizzie McCann, Sophie Hossack and Rachel Pritchard. They were up against Eton Excelsior and while the USBC crew had a good row and enjoyed themselves in the process, they were unable to keep ahead of the Eton crew.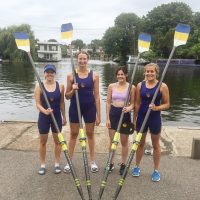 Rachel, Sophie, Lizzie, Aoife – WIM34x
Finally, Charlotte subbed into the Molesey BC mixed 8 racing against Sam in the final. The rest of the squad then headed to the river bank to cheer the crews on and get the first round of well-deserved drinks in.
Overall, a great day for the squad with medals in WIM12x and WIM34+.
It has been a hugely successful season for USBC. If you want to be part of the success please contact Ellie at ussu.boat@surrey.ac.uk for more information.