On Saturday 30th March, USBC sent two men's eights to compete in the Head of the River Race (HORR) to race against some of the country's top Universities and clubs.
The senior men's eight was made up of Lizzie MacCann (cox), Conrad Forbes, Lukas Schroth, Sam Bodkin, Tom Goldswain, Mantas Volkauskas, Ben Radcliffe-Brown, Wilson Sandengu, Jamie Gamble.
They were racing in the Medium Academic category alongside the likes of Imperial College, University College London and King's College.
The boys put down a great race, overtaking several crews, and finished 3rd in their category with a time of 19:29.2 – just 1.2 seconds behind second place. They finished 105th overall, a huge improvement from their 2018 result where they finished 197th. Here is what some of the athletes had to say about the day:
Lizzie MacCann (cox) – 'For many of us, it was our first time racing on the tideway. Luckily, we couldn't have asked for more perfect conditions to race in. The boys had worked tirelessly to place as high as they could in HoRR of which they did. We were happy to walk away coming 3rd in the medium pennant and looking back the boys had a great race and did not step off the gas at any point. They embraced the pain, the cheer from supporters and the encouragement and guidance from myself and their teammates. The boys have set the bar for intermediate crews at Surrey to meet in years to come, and have great momentum and potential to do well at BUCS regatta.'
Lukas Schroth (seven seat) – 'HORR was a great opportunity for us to see how we compare to other crews leading up to the Regatta season. The conditions of the race were great and we were happy with how we rowed, however we know that we still have to improve for the coming races. We overtook a few crews which made the race even more exciting and kept us all pushing. Finishing 3rd in our category wasn't the result we wanted but we were happy with the effort we put in nonetheless.'
Tom Goldswain (five seat) – 'We developed real physical and mental synergy in the week building up to the head. Drawing on our experiences from the head season we made sure to be fired up for the start. Shortly after settling into a solid rhythm we were hit by choppy water and some sharp steering but we kept the finishes up to compensate.
From early on we began ploughing through crews. This may have affected our composure as we didn't quite transfer the loose rhythm we found in training.
I made the decision to apply maximum power during the bursts so I reached a lot of fatigue early on. It surprised me how I could keep pushing so hard the whole way down the track – I'm a lot fitter and tougher since the start of training.
With one push after another we may have forfeited some length on the footplate – this is something we can use to build on going forward. That said, it was fun to be in London battling with multiple crews and we certainly couldn't have pushed ourselves any more. We've sent a strong message to our opponents as we look ahead to the regatta season.'
Ben Radcliffe-Brown (three seat) – 'Building into HORR we had a good block of training where we managed to step up massively and get the eight moving fast. We had high expectations and were ready for a good race. During the first few kilometres, we were able to overtake several crews which gave us a boost during a usually quiet and difficult part of the race. Going under Hammersmith Bridge we received a massive lift from the cheers of the crowds. We then had to dig in and push for the end. Despite the final result not meeting our expectations, it was a good race and we will build off the performance into BUCS regatta.'
Jamie Gamble (bow) – 'HORR was an exciting project for the senior men's squad. Having come out of BUCS Head in predominantly fours, it was time to come together and see how fast we could make an eight go. Despite only training in the eight for 3-4 weeks, we were delighted with how much speed we had found in such a short spell.
We had a strong start going through Chiswick Bridge and were straight onto pace going through the start. Fortunately we were able to stay disciplined and held this pace through to Hammersmith Bridge; in which time we overtook 4 crews. The roaring crowds at Hammersmith gave us a surge of adrenaline and spurred us onto our next checkpoint, Fulham Football Club. From here we emptied the tanks all the way until the line with a strong crew from Lea RC being very hard to overtake.
Overall, our performance on the day earnt us a strong 3rd place in our category and we were all very happy with our run down the 6.8km course!'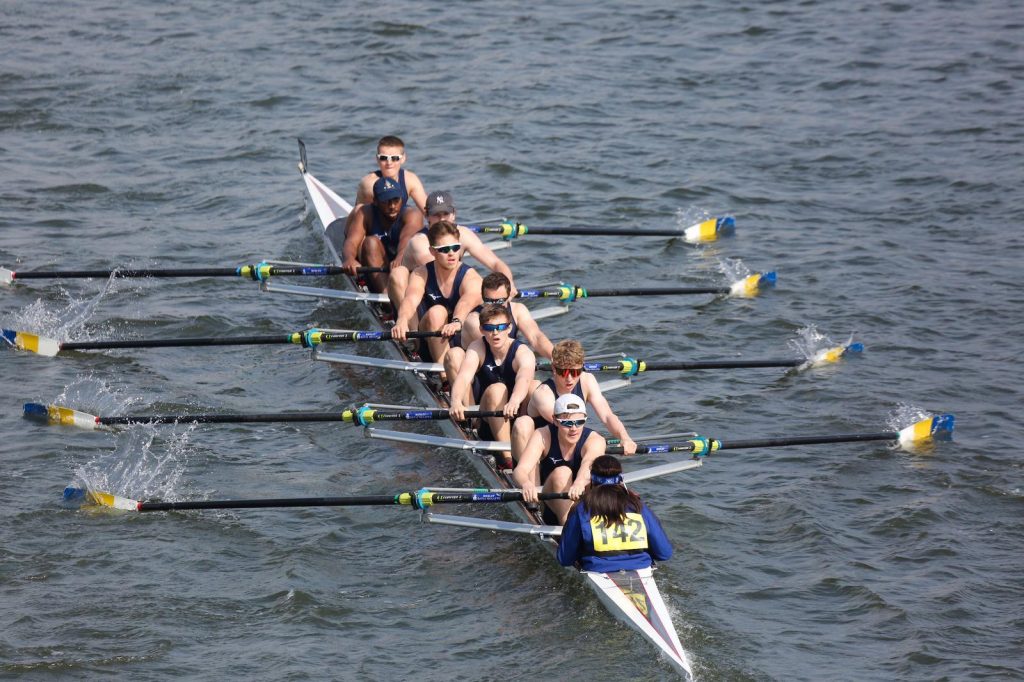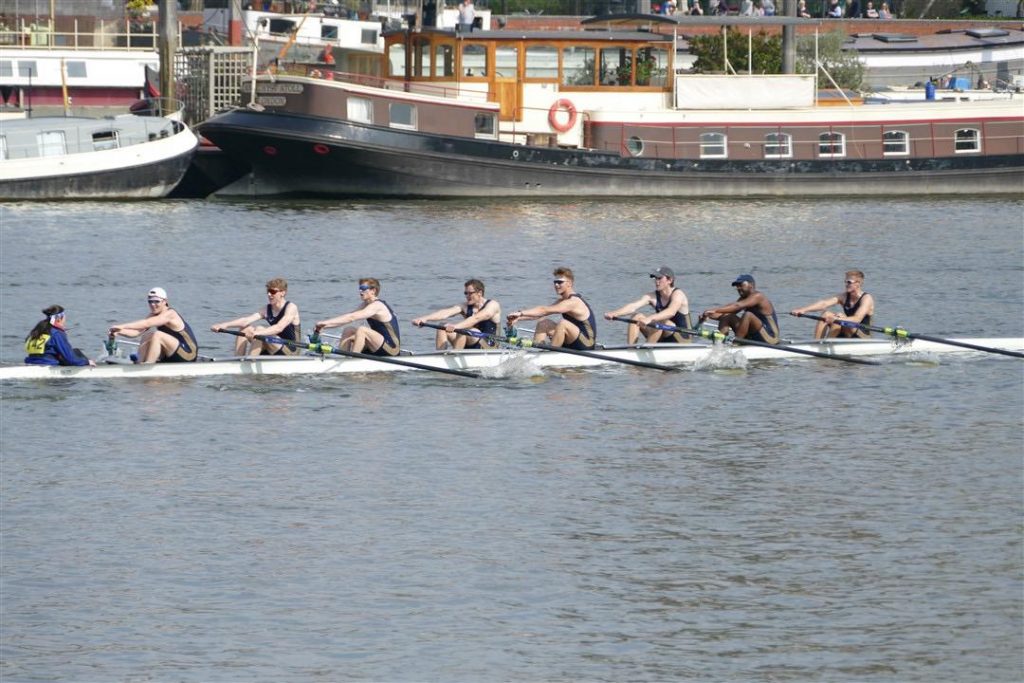 The development men's eight was made up of Ellie Hamilton-Davies (cox), James Humphreys, Ryan Hill, Sam Griffin, Cameron Wheeler, Bruno Grandjean, Tom Powders, Alex Long, Tommaso Rognoni.
They were racing in the Beginner Academic category alongside boats from Edinburgh University, Durham University and Queen Mary.
The boys stormed down the course and crossed the line with a time of 19:58.8. This ended up being the winning time in their category, meaning USBC were taking home the Beginner Academic Pennant – the first ever HORR pennant for USBC. Read below what some of the winning athletes had to say about their first experience at Head of the River:
Ellie Hamilton-Davies (cox) – 'It was a great experience to cox the dev men at HORR. We couldn't have had better weather or a better result. Despite technical difficulties as we passed though hammersmith bridge, the boys managed to push onto the last stretch of the race and finish strong. It was a very close finish with Edinburgh coming close behind. However, we can proudly say we took home the gold! The close margins of the result will only make us more determined to work harder, so we can continue to enjoy victories throughout the rest of the season.'
Ryan Hill (seven seat) – 'The tight result in the academic beginner pennant was the closest I have been to missing out on a first place position so far in this year's season!
But factoring in a mechanical mishap midway through the race, the fact we still came out on top fills us with a fair bit of confidence.
But it's good that such a close call has given us a nudge towards continuing to work hard in the weeks up to BUCS regatta, as no team is untouchable and neither are we!
I am still massively proud of the boys and our performance, and having a pennant in the Eights Head of the River will be a feat to be proud of for the rest of our lives!'
Cameron Wheeler (five seat) – 'Although it wasn't too pretty, we came away with another win. So proud of the boys and their spirit to crush that footplate. Cannot wait for the regatta season to start so we can display our speed in a straight line.'
Tom Powders (three seat) – 'The race was the most challenging so far. A technical malfunction in the boat midway through the race tested us as a crew and we managed to pull together and recover our speed. The win in the end was by a very narrow margin but the resilience the team showed bodes well for the future.'
Tommaso Rognoni (bow) – 'Another defining experience for the Club and myself. Overall a great performance from all the boys who kept a winner's mentality for the duration of the entire race and proved how much we all aspired to this. Winning a pennant at HoRR is something none of us will ever forget. Extremely proud of everyone and now excited to shift my focus towards multi-lane racing.'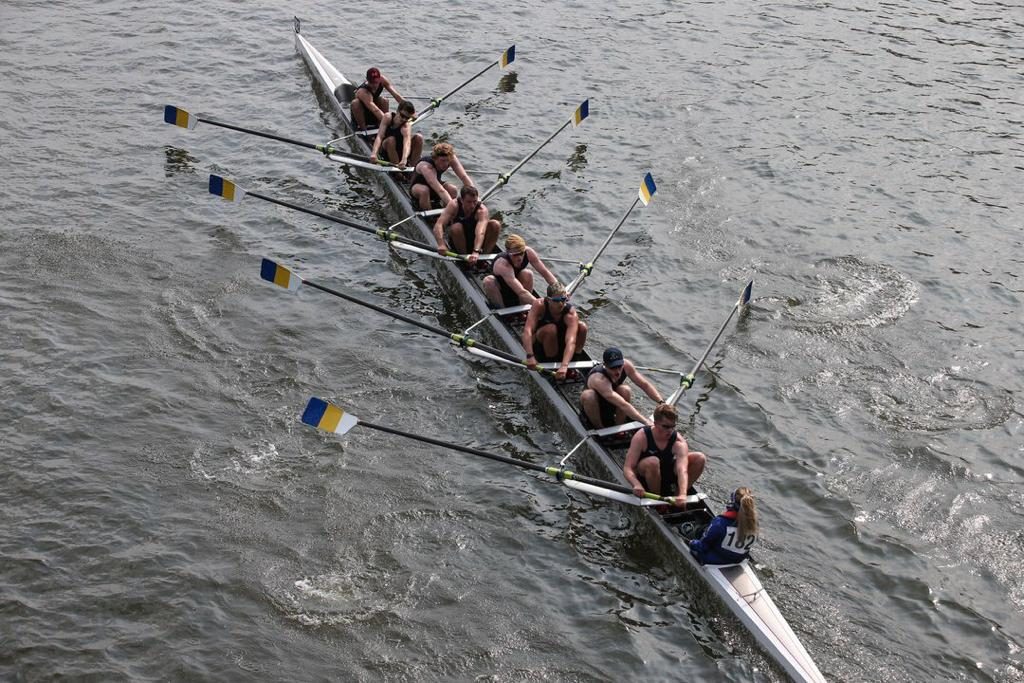 HPASS athlete George Stewart was also racing on Saturday in the Molesey A boat, they had a brilliant race and finished 5th overall – improving on their 8th place finish in 2018.
It is safe to say that USBC had a phenomenally successful day at HORR with every athlete competing having a better race than the previous year. As the Head Race part of the season comes to a close, everyone at USBC is excited to see what we can achieve come regatta season. The training will now focus towards BUCS Regatta, at the start of May, where we hope to continue this great momentum and put down some great results.