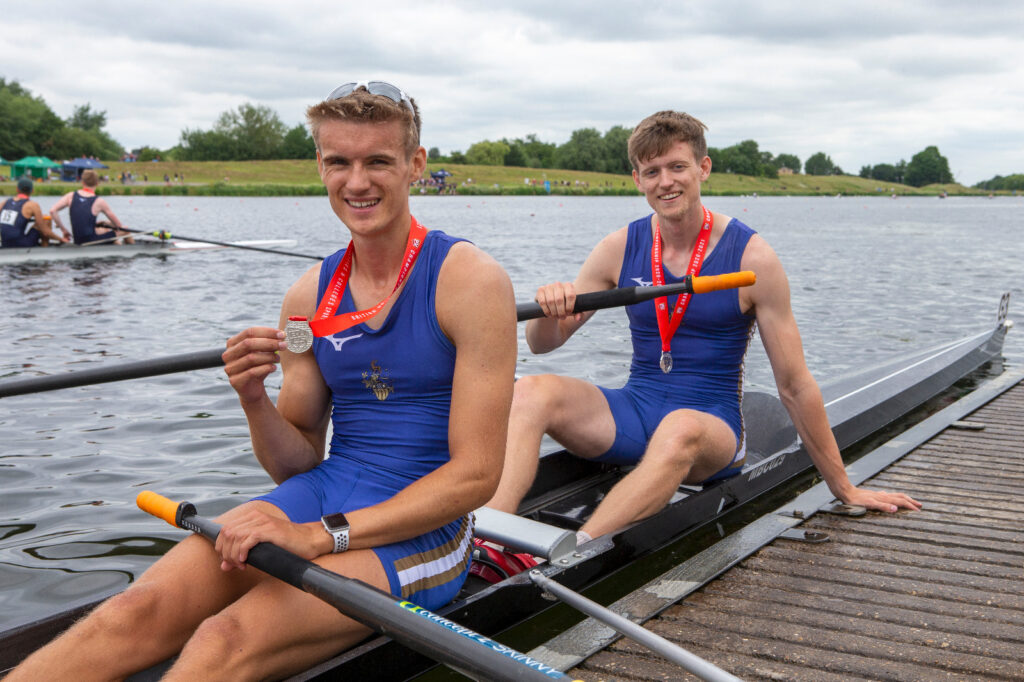 Jamie Gamble and Sam Bodkin after winning Silver in the Men's Championship Lightweight Pair at BUCS Regatta 2021
Our high-performance squad is programmed and trained by Head Coach, Samuel Tuck and is designed for athletes wanting to achieve the highest standard and target national medals, as well as international representation. The introduction of the programme has been one step further to Surrey establishing itself as a top university rowing programme and a high-performance club.
The programme itself consists of 4-5 water sessions, 4 ergos and 4 S&C sessions per week, and is based heavily on the training undertaken by the GB Development Squad. It is a step up from our senior programme and is predominantly focused on small boat work and long miles throughout the winter. All land sessions will take place at Surrey Sports Park with our S&C sessions led by a specialist coach; while our boats and water sessions are based at Molesey Boat Club. As well as a demanding programme, benefits of being part of the HP Squad include working with the Surrey Human Performance Institute who measure body fat percentages, blood-lactate levels and VO2 max to fine-tune and tailor our training.
Particular targets of the HP Squad involve GB trials, BUCS, Henley Women's and Royal Regattas and EUSA. In addition to individual goals, members of the HP Squad will train alongside our senior squads and come together to form larger crew boats for events such as HORR, WEHORR and BUCS Head.
Surrey has guided several athletes to great heights within rowing; boasting two Surrey athletes winning the Wyfold Challenge Cup with Molesey Boat Club in 2015; George Stewart and Ali Douglass winning gold in the Men's Championship Pair at BUCS Regatta 2018; Maile Wedgwood & Sacha Kennedy winning Aspirational Lightweight Singles at Henley Women's Regatta 2019 & 2021 respectively; and alumnus Harry Glenister now being an established member of the GB Senior Squad.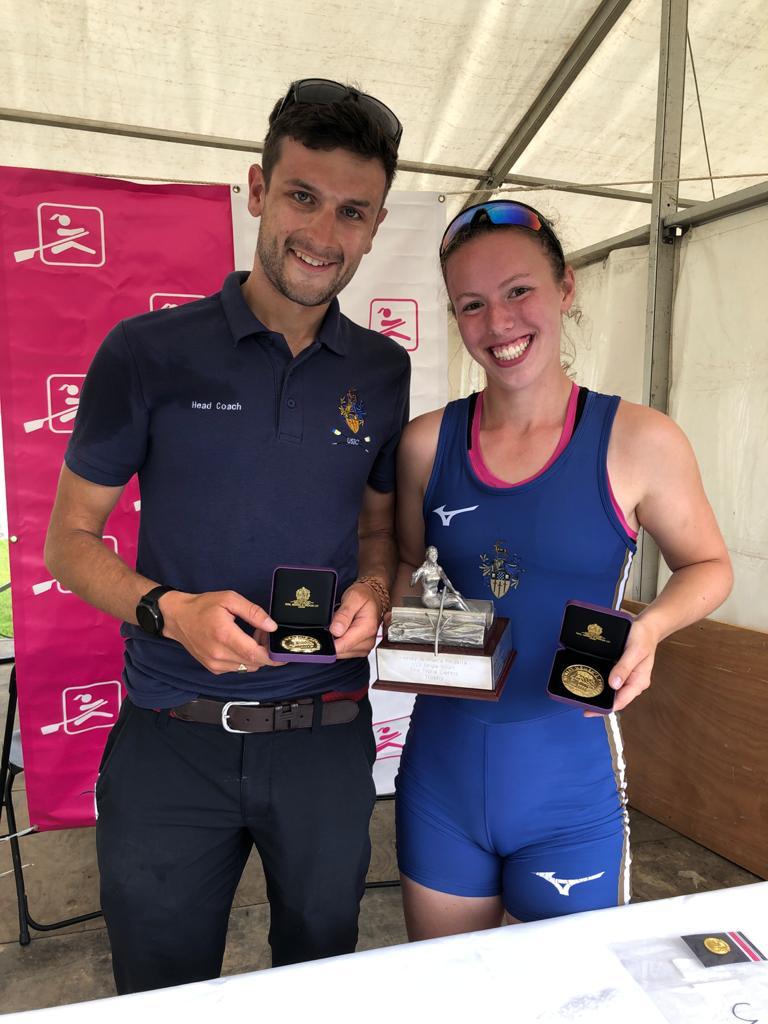 Sacha Kennedy winning Aspirational Lightweight Singles at Henley Women's Regatta 2021
Our partnership with Molesey Boat Club provides even further opportunity to success, acting as a direct pathway to international representation. If you're an experienced athlete looking to compete at the highest level, please do not hesitate to contact our Head Coach, Samuel Tuck via email at samuel.tuck@surrey.ac.uk.
The University of Surrey offers a variety of sports scholarships to support athletes of exceptional ability. To read more, click here.