Another season brings another BUCS Regatta, and on Friday 28th April our squads travelled up to the National Water sports Centre in Nottingham to compete against other universities around the country. This year we took 37 boats with us to race over the Saturday, Sunday and Monday, and as usual our athletes did not disappoint, racking up a total of 7 medals over the three days. The atmosphere underneath the Team Surrey tent was contagious throughout the weekend, and every success was shared across all the squads. Here's how we got on.
Saturday
The Saturday morning blessed us with some beautiful sunshine, and we had a total of 15 boats racing. As usual, we started the morning with a 1500m time trial. For those of you who are new to BUCS Regatta, the top 12 crews progress through to A and B semi-finals raced over 2000m. The top 3 boats in each semi-final race again in the A final, the remainder racing in the B final. The other boats race in minor finals later in the day.
By the end of the day we had come away with 3 medals. Our beginner coxed four (A), who had won BUCS Head earlier in February, delivered another Gold by a clear 10 seconds in their final, having won the time trial for this event by 13 seconds and coming first in their semi-final. Henry Clowes, who stroked the four, said
"The whole race in the 4+ was very exciting, we established our lead about 200m into the race and never lost speed. Crossing the line in podium position with such a lead against the other boats for my first ever regatta race was a feeling I have never had before and I don't think I could replicate that ever again. It was a pleasure to go back to our tent to be greeted with so much excitement and happiness from friends, coaches and the rest of the squad"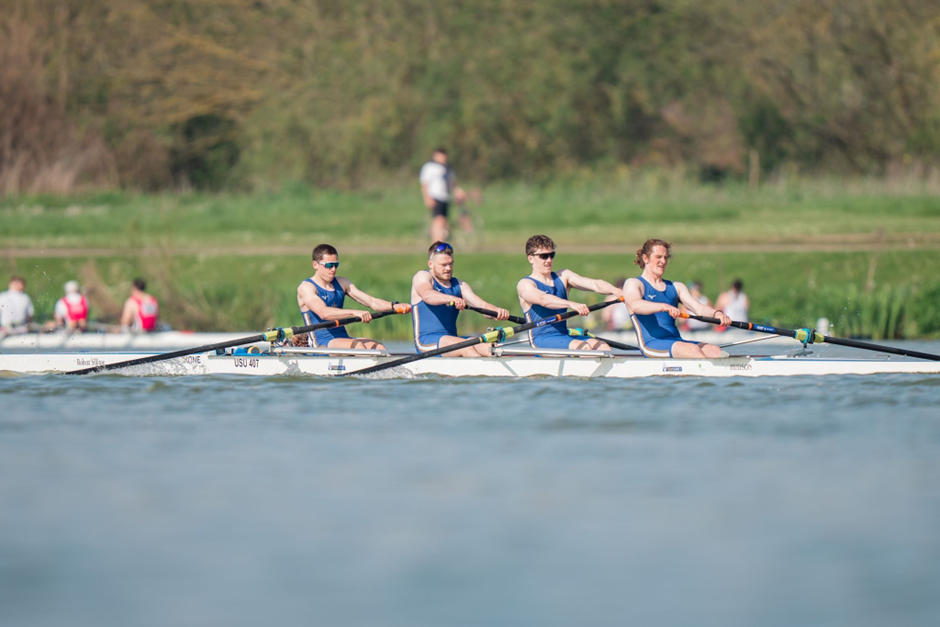 Our lightweight twins, Sacha and Léonie, won silver in their championship lightweight double after a very impressive race. Sacha had this to say about the race.
"Léonie and I both knew going into the race that it would be hard. However, we believe that the fastest crews are the ones who enjoy the challenge. We wanted it to be a tough race to the line and that's what we got. I couldn't be prouder and the support that we got from our USBC family was incredible"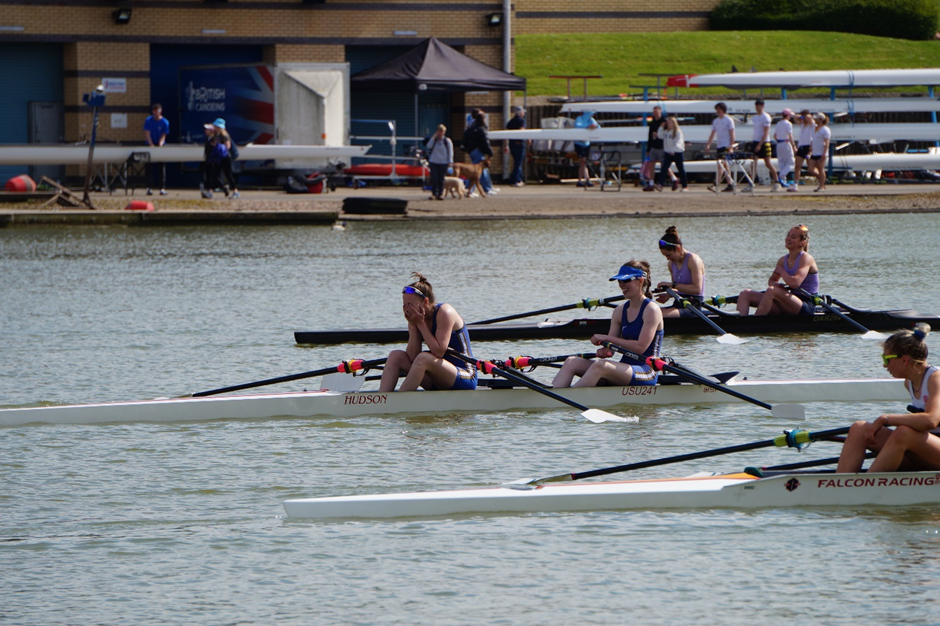 Our very own world class start athlete, Aidan Thompson from Twickenham Rowing club went on to win Gold in the Men's Championship single. Aidan has had a hugely busy season trialling for GB and has recently come away from April trials where he also raced in his single.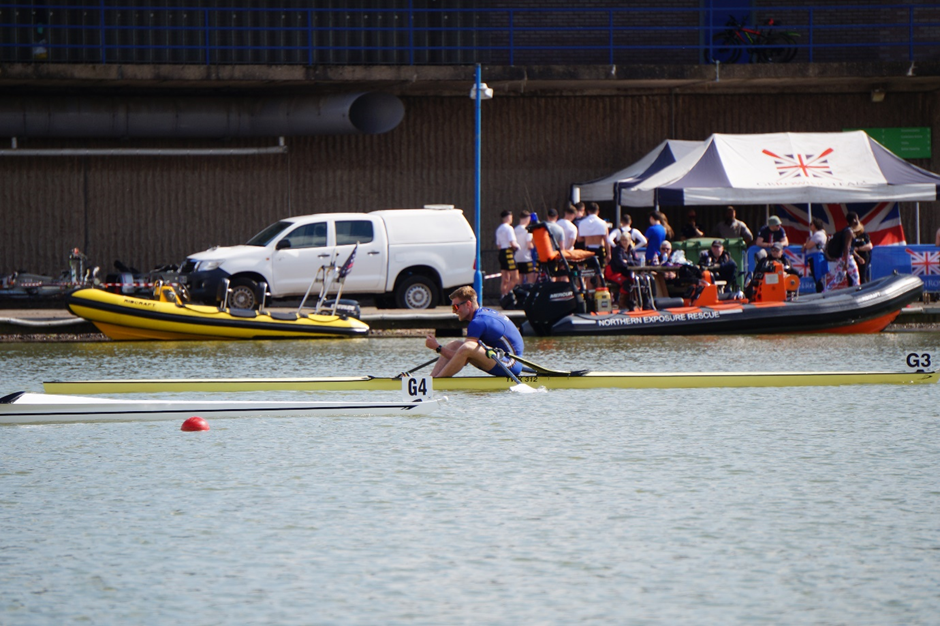 Our other results of the day included:
Our President Tom Fortnum (Nigel), who raced in the Men's Lightweight Intermediate single, and came 2nd in his time trial and semi-final and 5th in the A final, going up against some incredible crews and demonstrating incredible resilience and some brilliant racing.
Our beginner Men's quad narrowly missed out on a medal in their A final, but still managing an impressive 4th.
Intermediate Women's pair, Amy Lavelle and Eleanor Stratton, rowed brilliantly in their B final to come 1st.
Our Beginner Men's coxed four (B) came first in their C final
Our Women's Intermediate quad made the C final, and we had 4 other Men's singles make the minor finals, which led to the end of a fantastic start to BUCS Regatta 2023.
Sunday
Sunday brought another three medals to our tally, along with some incredible racing across the squad.
Léonie won silver in the intermediate lightweight single after a stellar performance the day before, having come 3rd in the time trial and 1st in the semi-final. Asking Léonie on her thoughts on the race, she said
"When I initially saw the draw, I was a little nervous about going up against strong programmes like those from Durham and Reading, but after placing 3rd in the time trial, I realised that I had a real shot at medalling.
The final was a tough race against some tough competition. I got off to a strong start and positioned myself to get silver early on and so from there I just focused on my rhythm and my boat. The support from USBC was incredible and I feel proud to have been able to add another medal to the Surrey tally."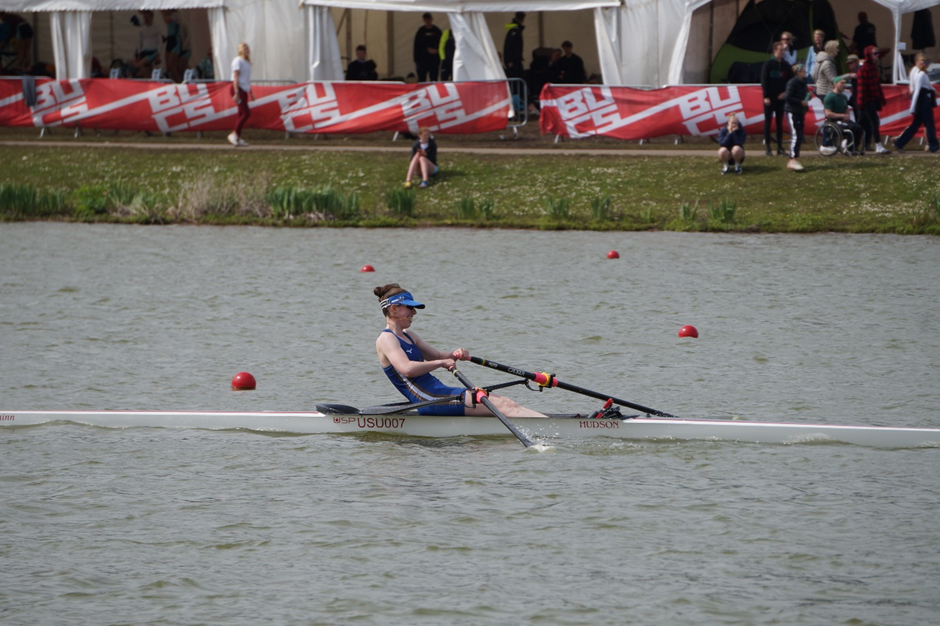 Our Beginner Men's 8 (A) dominated the field in their races, bringing home another Gold after their impressive winning performance at BUCS Head earlier this year, winning their final by 10 seconds clear. Jamie Reynolds, 2nd seat in the 8, said
"The race for the 8 had been in our minds since Ellie said how much she wanted to win it at our first meeting. From then it all became our ambition to win and to make her proud, and I can't thank enough the whole USBC family, the coaches, and the boys who I consider to be brothers for life for their constant support, and there isn't a group of people I would have rather won with and celebrated with than the dev boys."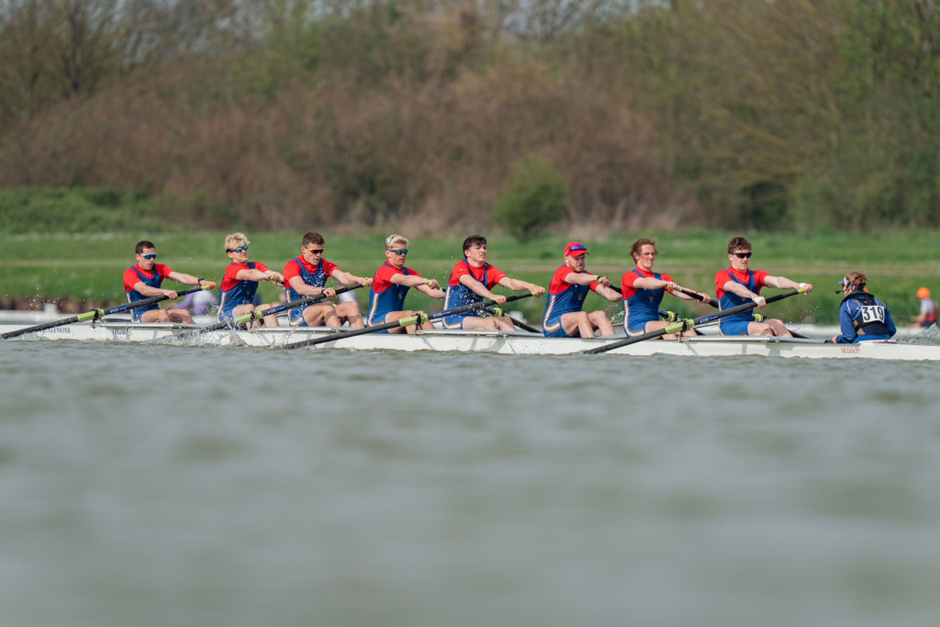 Notably, we also were extremely proud to have a second Beginner Men's 8 race for the first time in recent history, who raced brilliantly throughout the day and made the C final.
The championship lightweight coxless four brought home a silver for our last medal of the day after some impressive racing against some tough crews. Amy Hill was sat in the bow seat, and said
"Our coach is always telling us to 'be fearless' and when the A final of the W Ch Lwt 4- came, we knew that was exactly what we had to do. We had spent the whole winter training hard, pushing through lots of tough weeks of land training, with BUCS regatta at the forefront of our motivation. Going in to the race your goal is to finally make all of that hard training worth it, reap the rewards and enjoy it. Being able to do that with your best friends and lots of support around you, is a feeling that I can't describe. I feel beyond proud of us as a crew and what we achieved. It is a memory that I will never forget!"
Along with these medals, we were also treated to some amazing racing from the following.
Sacha achieving an amazing 6th in the A final of the Women's intermediate lightweight singles.
Our Beginner Women's four achieving an impressive 4th in the B final.
Our Women's Intermediate 8 fought for 4th place in their B final
4th in the rep of the Men's Championship Lightweight double
Our two Men's intermediate doubles, who came 2nd in the D final and 1st in the F final.
Monday
Our last day of BUCS Regatta brought home our last medal, a silver in the lightweight quad, and the same athletes who had won the coxless four the day before.
We also had our Men's intermediate quad come 4th in their B final, made up of Tom, Manuel, Jack and Joe. This was their last BUCS regatta as a quad, having joined the squad in 2019 and having their beginner season disrupted by COVID which caused the BUCS Regatta that season to be cancelled. Over lockdown they all lived together and trained together before racing at BUCS Regatta 2021. A new category had been opened up for beginners whose season was affected by COVID, and the quad ended up winning their category. Now, 4 years on, they finish 10th overall in the intermediate category, going up against some tough crews and demonstrating incredible fearlessness in their racing.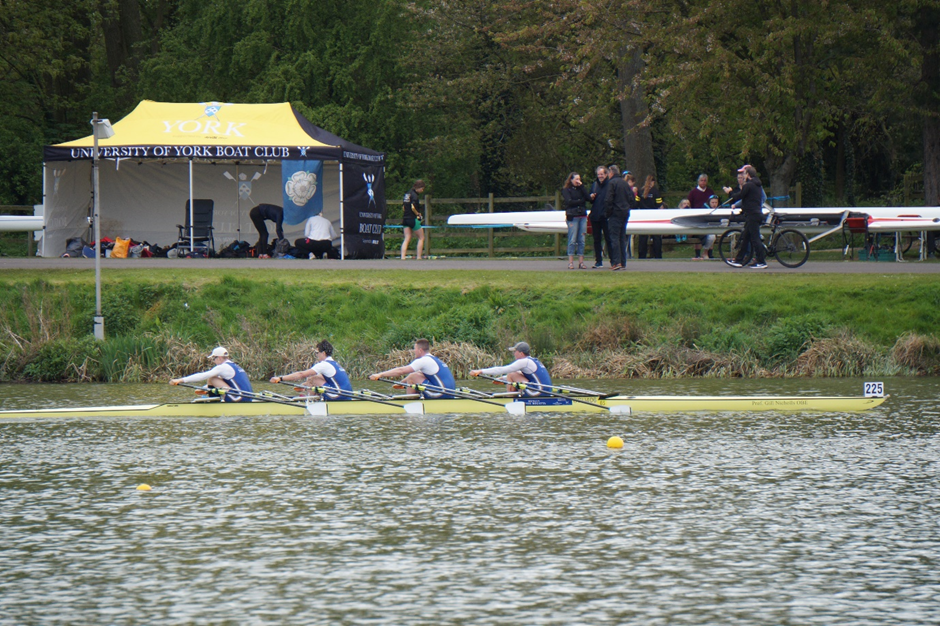 Our other results included
2nd in the B final for one of our Beginner Men's doubles, and 1st in the C final for another.
1st in the C final for the Women's intermediate four.
We had two beginner Women's doubles race who won their F and D finals, wrapping up another BUCS Regatta and incredible weekend.
And so, with 7 medals in the bag, here is a summary of the medals we achieved over the weekend.
Gold
Aidan in the Championship Men's single
Beginner Men's 8
Beginner Men's coxed 4
Silver
Lightweight women's quad
Léonie in the intermediate lightweight single
Championship lightweight women's coxless 4
Sacha and Léonie in the championship lightweight double
We are hugely proud of our athletes, not only for their performances while racing, but also the incredible support they all showed each other over the weekend. Every success was shared between the squad, athletes ran down the sides of the bank cheering for their crews, and there was always someone waiting on the landing stage to help. We turn our attention now towards regatta season, excited to see what the rest of the season will bring!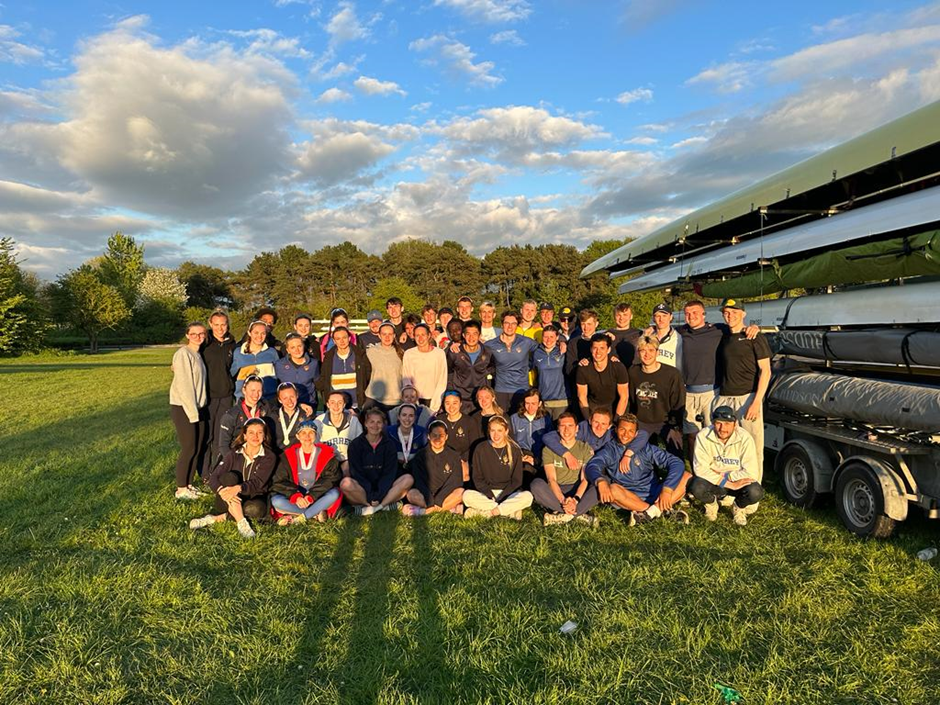 Photo creds to AllMarkOne (https://allmark.one/) and Orlando Williams