On the 21st February, USBC headed to Newcastle to compete at BUCS Head. After a solid amount of training done throughout the winter and at our Seville training camp, we were itching to get some racing in after several cancellations down South. BUCS Head is a great opportunity for us to test ourselves against some of the top Universities in the UK, and so it was definitely an event we had been eagerly awaiting. With the beginner categories on Saturday sadly being cancelled due to Storm Dennis, all senior events were pushed to the Sunday of the event.
We had five boats in total competing over the course of Sunday. By the afternoon, the wind had picked up dramatically, resulting in very challenging conditions. In response to this, the organisers decided to shorten the course length in Division 2 in order to get the racing done as quickly as possible before the wind picked up any further. Despite this, all of our crews had a fantastic race and we can't wait to see how this momentum builds into the Regatta Season.
Here's what our Lead Development Coach Ellie Stevens had to say about the weekend:
Having taken a large group of our novices away on winter camp to Seville in February, we were really excited to have beginner eights, fours and quads racing at BUCS Head.
Initially we were due to use the Intermediate 5km racing on Saturday as a training tool for the top novice women's and men's eights, but after the beginner divisions were cancelled due to bad weather forecasts, we used the opportunity for the athletes to gain some valuable racing experience on the Tyne in preparation for both WEHoRR and HoRR.
The development squad had a fantastic weekend away, doing some worthwhile training in the Durham University tank before pre-paddling on the course and racing in the Intermediate divisions. Both crews were able to beat a handful of crews, which puts them in an exciting position for a brilliant season to come given that they have only been rowing for a couple of months!
Below are the crews and their results:
Women:
WInt8+ (A)Rehmat Goodwin, Elisavet Palaiologou, Molly Ryan, Alyssa Mather, Maddy Brown, Fiona Norris, Cecile Flavin, Marnie Ridley, Ellie Hamilton-Davies (cox).  14thplace
WInt8+ (B)Emily Davenport, Lorena Symes, Hannah Knapton, Jess Davis, Charlotte Smith, Bella Curd, Eloise Deacon, Jodie Wickers, Maile Wedgewood (cox). 19thplace
WInt4+Lizzie Raine (cox), Marnie Ridley, Rehmat Goodwin, Fiona Norris, Cecile Flavin. 15thplace
Men:
Mint8+ (A)Sam Bodkin, Conrad Forbes, James Humphreys, Tom Powders, Mantas Volkauskas, Cameron Wheeler, Sam Griffin, Jamie Gamble, Ellie Hamilton-Davies (cox). 7thplace
Mint8+ (B)Tom Fortnum, Manuel Bradicic, Cullum Attwell, Alex Hambly, Jack Webber, George Rendell, Miro Blicharz, Adam Moon, Maile Wedgewood (cox). 21stplace
Both B boats for the Women and the Men consisted of beginners who had learnt to row just last September, and so it was a great set of results from both crews. With it being their first race of the season, they dealt with everything very professionally, even beating some intermediate crews whilst they were at it.
Here are some thoughts from our athletes on the weekend and their races…
Bella Curd, 6 seat. WInt8+ (B)
BUCS Head has been the highlight of my year so far. Being my first race as a novice rower, I was very nervous! The whole weekend was a great learning experience and I really enjoyed not just the race but the whole event too. The atmosphere was amazing on the day, and I felt very proud to be racing in USBC colours.
Jodie Wickers, stroke seat. WInt8+ (B):
BUCS head was our first race as beginners, and we were super excited to finally get racing. Although the crew were understandably nervous, the atmosphere and vibe the girls created in the boat was amazing! The competition was tough, and the race was a huge learning curve, but we've learnt so much to take into our next race.
Marnie Ridley, Stroke seat WInt8+ (A), Bow seat WInt4+:
I was absolutely itching to race at BUCS Head for the first time as a Senior. I'd raced on the Tyne once before in my Beginner year and so I didn't feel as nervous as I would have going into the unknown.
In the eight we had a solid race plan set and were confident going into the start. We got on our rhythm and managed to overtake two crews. The feeling that gives you during a race is like no other, I got more and more aggressive as the race went on and gave it my absolute all. I thoroughly enjoyed racing the eight, I think as a crew we know we have a lot to build on, but we are very hungry and motivated to improve.
My second event of the day was the 4+. Rowing up to the start line felt like an eternity, we were fighting waves and crosswind like I had never seen before. Despite this we were eager to get going again and give our all in the last race of the weekend. I've definitely learnt a lot from this weekend, and I can't wait to see how much we improve going into BUCS Regatta.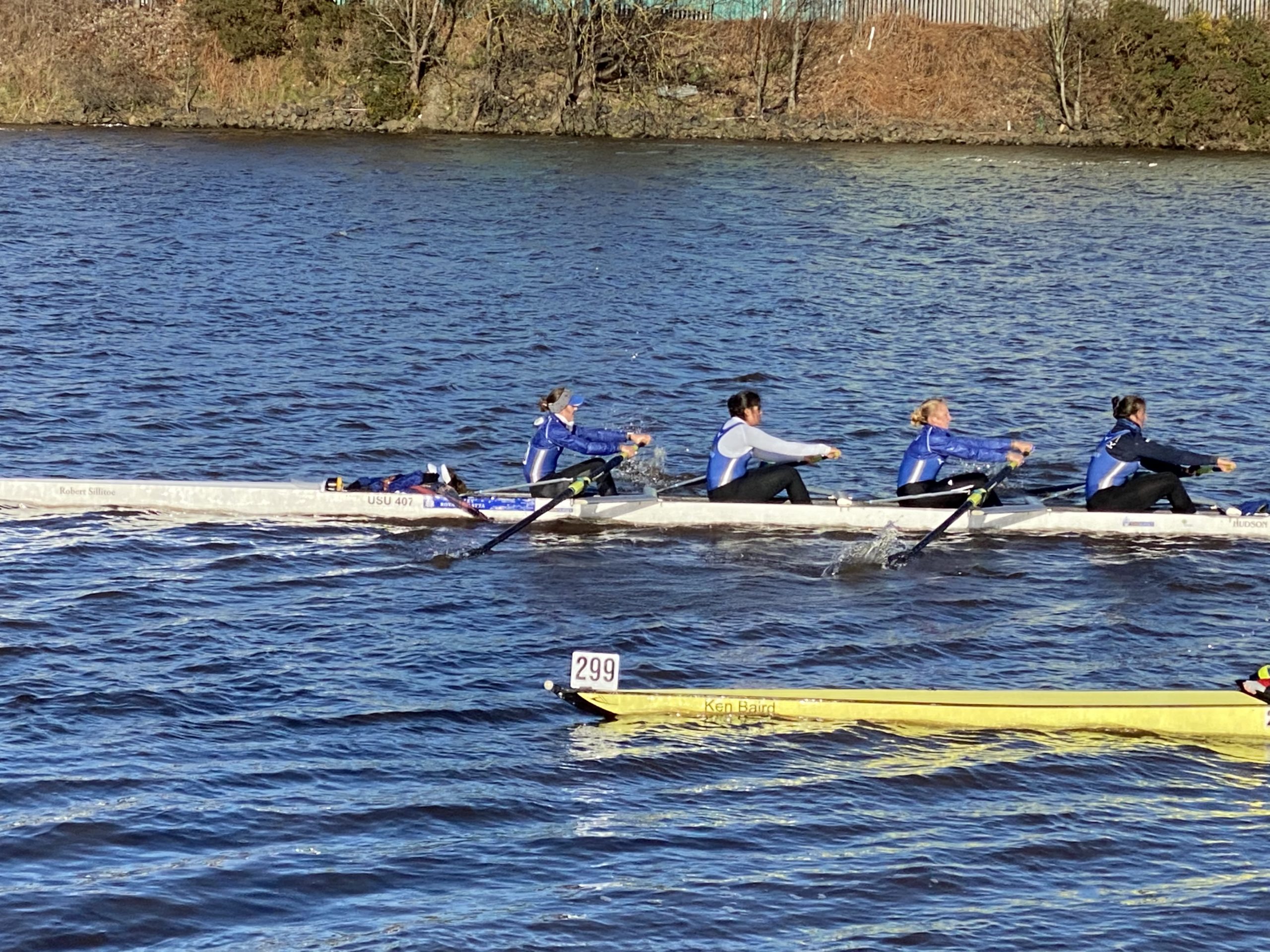 Jamie Gamble, Stroke seat. Mint8+ (A):
I was very excited to race BUCS Head, especially as this was just my second (and most of the squad's first) race of the season due to this winter's appalling weather! We had done lots of work in the 8+ prior to BUCS on our training camp in Seville and we were confident this had given us a significant step up in our quality and speed.
Intermediate 8s is an incredibly competitive category but this didn't stop us from aiming to finish towards the top among some of the UK's top rowing programmes. Remarkably the event went ahead despite lots of uncertainty about the weather conditions, and we boated onto the Tyne which felt more like rapids than a river. Once we turned our boat to marshal and wait for the start, tapping up was like rowing against a treadmill and we knew we were in for an interesting race with rather questionable conditions. We set off and got onto our aggressive rhythm early on, overtaking a crew within just two minutes of starting. This was a big boost for the crew, and we aimed to hold this pace right until the home straight. For almost the entirety of the course we were constantly using the Warwick crew behind us to push us on and ensure we held our speed. Coming around to the home straight, we started to climb in rate and build for the line. Despite the final sprint seeming to last for an eternity we eventually crossed the line in a time which earned us a pleasing 7th place.
This was a positive and encouraging start to our racing in 2020 as a men's squad and we now look to HORR in just over a week where we are hoping for an even better result.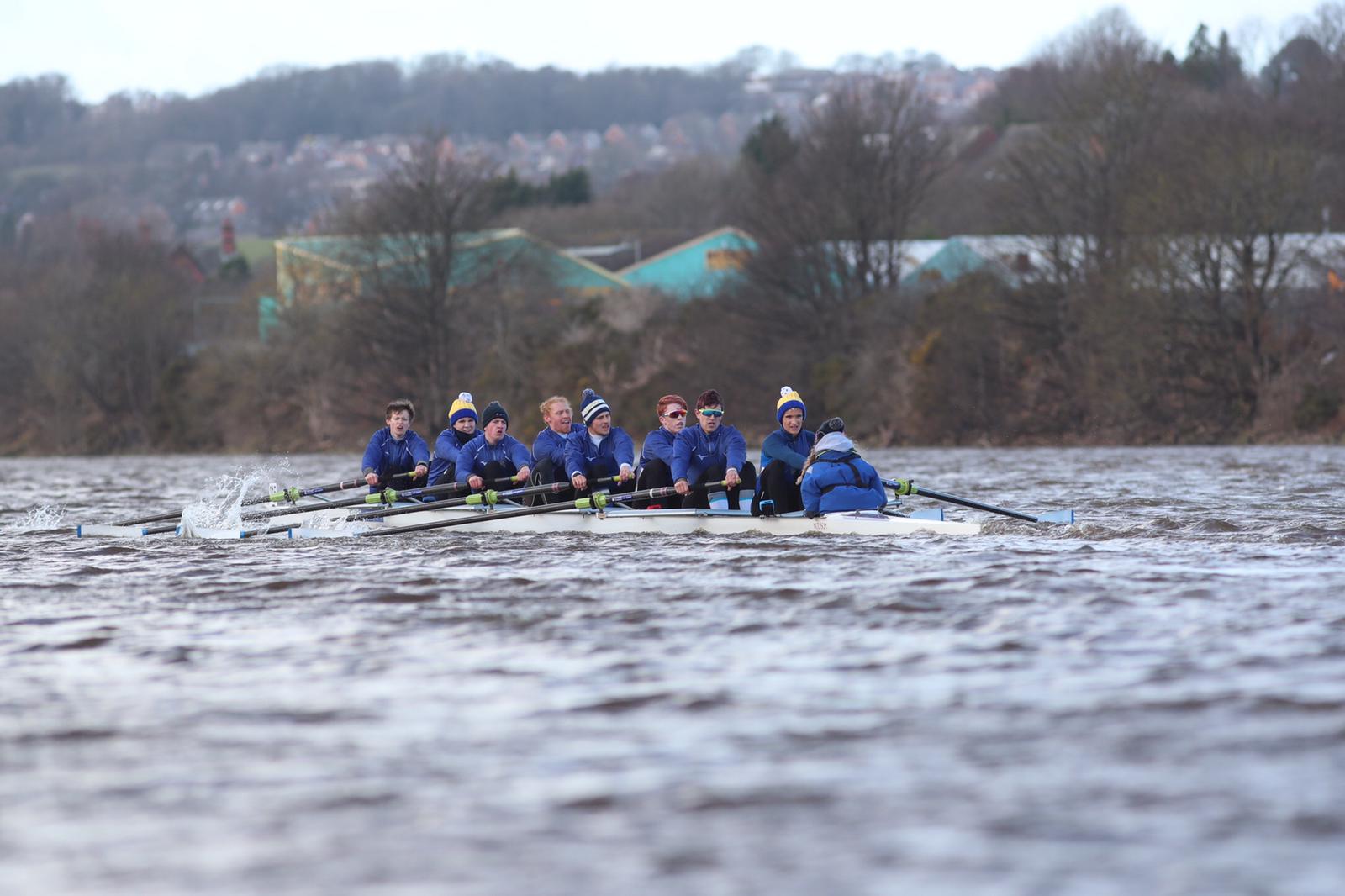 Sam Griffin, 6 seat. Mint8+ (A):
BUCS head was an eye-opening experience in all aspects of the imagination. As my first race of the season, in questionable conditions, we had an incredible day on the water and a memorable weekend up in Newcastle. Marshalling in the freezing cold, with waves crashing over riggers, we anticipated a wild race and spirits were high. Attacking the start hard, we hit our stride early on, sailing over the choppy conditions around the first big bend on the Blaydon station corner. We knew there was going to be a big call to push before the final straight and been pre-emptively been called the 'do-or-die straight'. The second half of the race was a blur as we flew past friends and family on the banks to our right under the final pylons and over the line a few hundred meters later. We now have our focus for HORR and aim to make a statement for USBC. Exciting things to come.
Tom Fortnum, Bow seat: Mint8+ (B)
After pushing off into the water we realised the conditions were way worse than they looked on then bank. We paddled the finishing straight, on our way up to Marshall and as soon as we turned the first corner, we were hit by the wind which was against the stream. About 1km from the top was when I started to get nervous and it started to feel real. The start line had moved about 200m closer to the finish line which wasn't clearly stated. This meant that we wound up, slowed down and then wound up again. As we came around the final bend, we made the move that was planned under the pylons. Within the last 2 minutes of the race I heard Ellie's foghorn call of "Yeah Surreyyy" which was free speed for the boat as I felt a change knowing it was time to put ourselves in the bin. I remember thinking it was the last 10 strokes for about 30 strokes so when we crossed the line, I was thankful we had finished.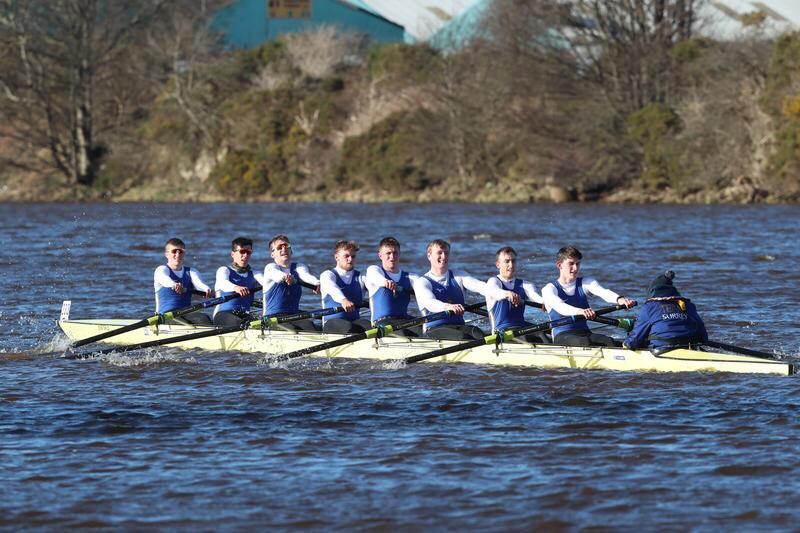 Alyssa Mather, 4 seat: WInt8+ (A)
BUCS Head 2020 was one to remember! Coming away from the weekend the squad felt closer than ever, spirits high, and raring to press on into more race prep.  Conditions were far from optimal, challenging every athlete in body and mind, but we gave it a good shot and got the work done. We have gained experience and learned as athletes, individual squads, and as a whole squad, keeping focus on our targets and grinding through until we achieve our best.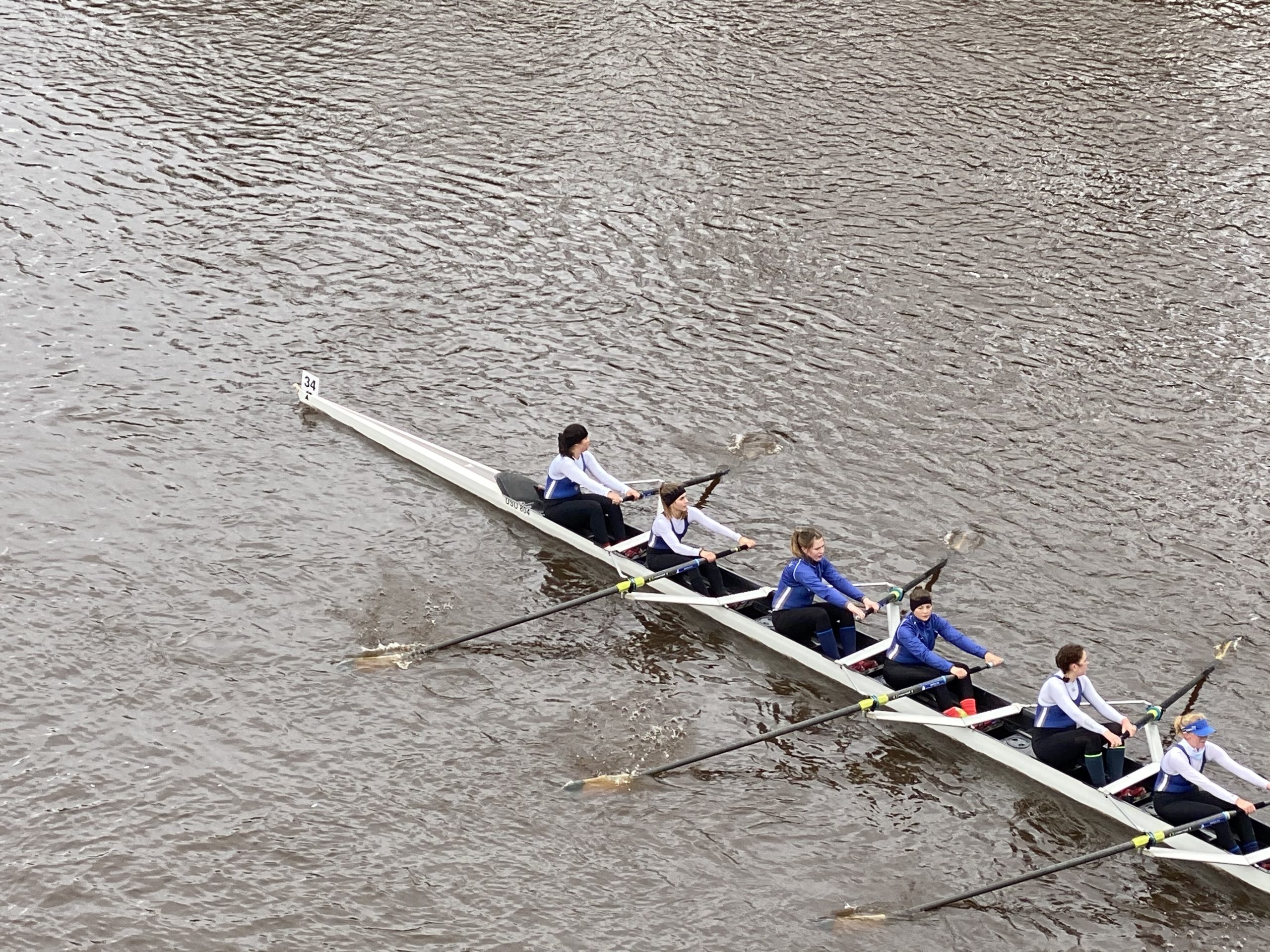 All in all, a great weekend for USBC and some great race preparations for all athletes going into the next stage of their training. A big thankyou to Tyne Amateur Rowing Club for hosting us, we hope to see you again next year!