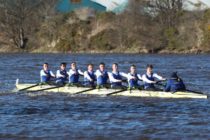 Development men's 8+ at BUCS Head 2020
Coming to University is a great chance to try new things. University rowing is the most prestigious in the world, and many Olympians only start rowing at university.
Our development programme aims to advance complete beginners to that of a competitive national standard within the year, with successes proven by qualifications of novice crews at Henley Women's Regatta and beyond. This year, six out of the eight men who raced in the Henley Royal Regatta Temple Challenge Cup 2018 crew were taught to row at Surrey, five of them having rowed for less than a year.
Joining the novice squad, you should expect coaching of sweep oar and sculling on the water. Land training is comprised of strength and conditioning sessions with a designated specialist S&C coach as well as ergo sessions on the rowing machine.
Our development programme also targets coxes. Coxes receive the same amount of coaching time in order to make for fully competent athletes who will be more than capable of not only steering, but also controlling the mood and drive within the crew.
Throughout your first year of rowing, you will compete in local head races during the winter season to prepare you for BUCS Head which takes place in February. During the summer season, you will compete in local regattas to gain the confidence and experience of side-by-side racing in time for BUCS Regatta in May before Henley Women's or Henley Royal.
In the 2018/19 season, the men's beginner squad took home four BUCS gold medals, a pennant at HoRR, and four of them qualified at Henley Royal Regatta in the Temple Challenge Cup. The women's beginner squad placed 4th at BUCS Head and 5th at BUCS Regatta, both the highest placings for beginner women's squads to date. This has been the most successful beginner squad USBC have had so far, do you want to achieve even more?
If you are an ambitious, driven and motivated person, you should take this opportunity to experience one of the most rewarding sports that there is. We are always excited to welcome new members and can't wait to have you on-board.