DO YOU WANT TO JOIN ONE OF THE BEST BEGINNER PROGRAMMES IN THE UK?
Our Development Squad is for people who have never rowed before. No experience is necessary, all we ask is that you come in with an open mind and a can do attitude.
Our aim is to mould you into a competitive athlete where you will have the best chance of winning medals. We look to merge the Beginner and Senior squads by June.
Our Development Men last year were undefeated, winning gold in everything they touched. Our Development Women made history placing 4th in the WB8+ at BUCS Regatta.
We run taster sessions at the beginning of the academic year, where you can try out rowing and check out the facilities at Molesey Boat Club. Keep an eye on our social media for when those sessions will be, or come and chat to us at Freshers Fayre in September!
Training
As a beginner, the intensity of training is slowly built up to around 6 sessions a week. This includes circuits, 2 water sessions, 2 ergo's and 1 S&C session. Our focus is on getting you fit at the start of the year.
All our land training is done on campus and at Surrey Sports Park. Training is done in the mornings and evenings, so it easily fits around your studies. Wednesday afternoons are solely for sports here at Surrey.
We row out of Molesey Boat Club, which is a 30 minute drive from the University. This is where we do our water training. Lots of our members drive and we have access to the University minibuses, so don't worry about getting there.
Racing
Head races range from 3000-7000 meters where you are set off in crews one after the other. Typically we look to get our Beginners racing at one in November. BUCS Head is a 3000 meter race in February, and will be a main target for you.
The summer brings Regatta season! These races are ones where boats are lined up next to each other – you battle it out to the finish line, usually over a 2000 meter stretch. BUCS Regatta is in May and will also be a main target for you.
The programme is designed to give you the best chance for racing at Henley by the end of the season. Four of our Beginner Men last season raced in the Temple Challenge Cup at Henley Royal Regatta, after just 10 months of rowing.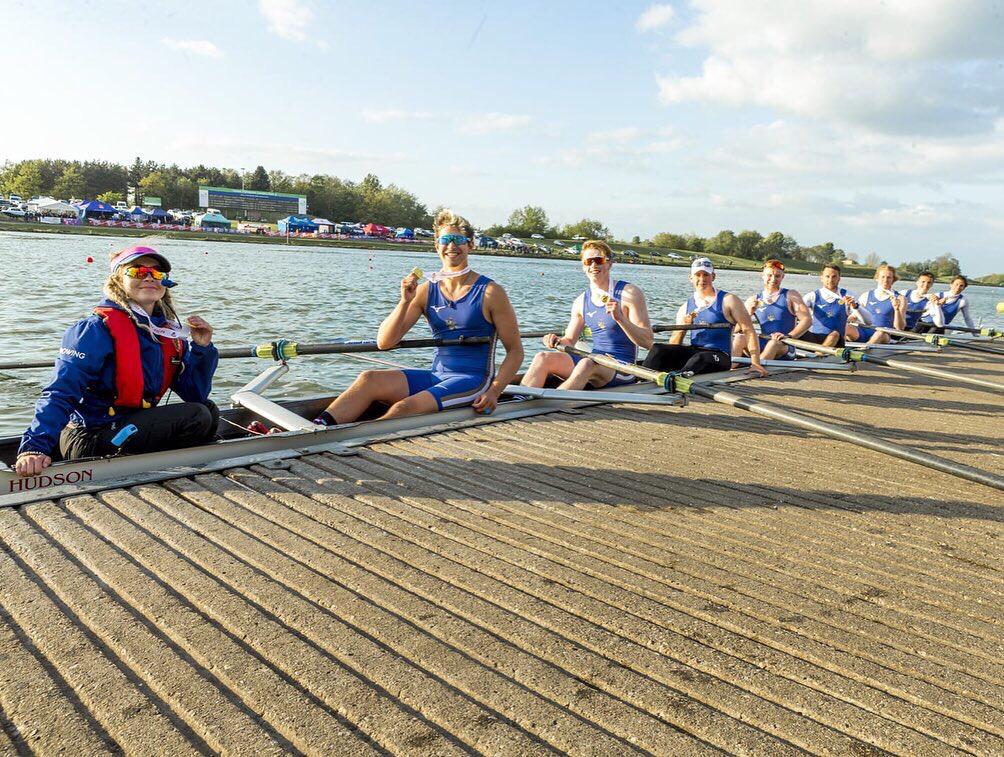 Beginner men's 8+ winning BUCS Regatta 2019
Coming to University is a great chance to try new things. University rowing is the most prestigious in the world, and many Olympians only start rowing at university.
Our development programme aims to advance complete beginners to that of a competitive national standard within the year, with successes proven by qualifications of novice crews at Henley Women's Regatta and beyond. This year, six out of the eight men who raced in the Henley Royal Regatta Temple Challenge Cup 2018 crew were taught to row at Surrey, five of them having rowed for less than a year.

BUCS Gold winning Men's Beginner 2 Quad
Joining the novice squad, you should expect coaching of sweep oar and sculling on the water. Land training is comprised of strength and conditioning sessions with a designated specialist S&C coach as well as ergo sessions on the rowing machine.
Our development programme also targets coxes. Coxes receive the same amount of coaching time in order to make for fully competent athletes who will be more than capable of not only steering, but also controlling the mood and drive within the crew.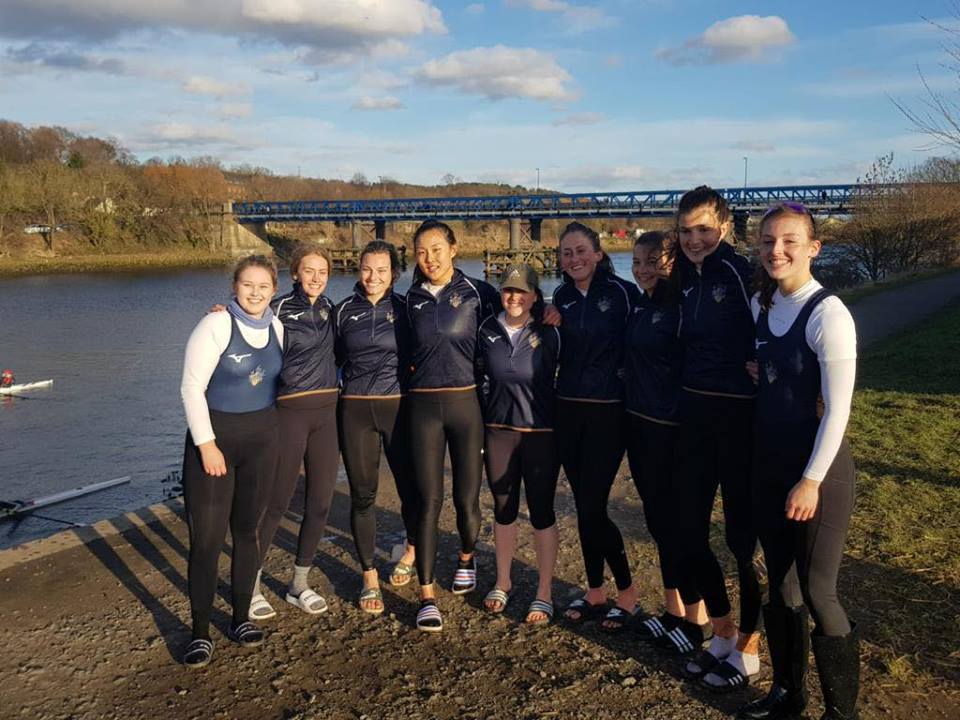 Throughout your first year of rowing, you will compete in local head races during the winter season to prepare you for BUCS Head which takes place in February. During the summer season, you will compete in local regattas to gain the confidence and experience of side-by-side racing in time for BUCS Regatta in May before Henley Women's or Henley Royal.
In the 2018/19 season, the men's beginner squad took home four BUCS gold medals, a pennant at HoRR, and four of them qualified at Henley Royal Regatta in the Temple Challenge Cup. The women's beginner squad placed 4th at BUCS Head and 5th at BUCS Regatta, both the highest placings for beginner women's squads to date. This has been the most successful beginner squad USBC have had so far, do you want to achieve even more?
If you are an ambitious, driven and motivated person, you should take this opportunity to experience one of the most rewarding sports that there is. We are always excited to welcome new members and can't wait to have you on-board.