While our USBC women were out in force competing at Henley Women's Regatta, our senior men's coxed four were showing their power at Marlow Regatta.  Just six days before Henley Royal Regatta (HRR) qualifying, it gave a final chance to fine tune their engines and ready themselves for business – with the small chance of gaining prequalification for the Prince Albert Challenge Cup in the process.
Club and university crews from all over the country and even abroad as far as the United States and Australia had descended on Dorney Lake for a big day of racing.  The overseas crews had certainly brought the weather with them as the sweltering heat added another challenge to what was going to be an extremely competitive regatta.
The USBC coxed four, made up of Andrew Stevenson (stroke), Jonas Butvilas, Alex Law and Harry Grassom (bow), along with their cox Tsolo Swan were in the University/College 4+ event, aiming to beat many of the crews also entered into the Prince Albert Challenge Cup at HRR.  Their time trial performance got them through easily to the A Final and put them in a strong position, coming third out of 14 entries, 9 seconds off the Durham crews in first and second place but a comfortable 15 seconds ahead of the American crew from Bowdoin College in fourth position.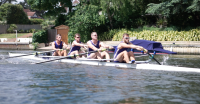 Going into the final, the Durham 'A' and 'B' crews were arguably favourites to retain the top two positions in the side by side racing but our lads were confident they could change this.  Off the blocks, the Durham boats were quick to pull out in front but the Surrey boat matched their speed and stayed with the leading pack.  As the race progressed it was clear that Durham 'A' & 'B' and Surrey were going to make up the top three but the order was far from certain.  While Durham 'A' were just out in front, their 'B' crew and Surrey battled it out for second place, with us latter taking that spot in the final stroke of the race, making it a very intense finish.  Coming second place in between two strong Durham crews was a great way to finish the day and very encouraging for what is to come.
Unfortunately, this was not quite enough to earn prequalification for a very competitive Prince Albert Challenge Cup but it nevertheless proved our guys were one of the stronger crews out there and that the HRR qualifier time trial should be no more than another day at the office.
Updates on the four's Henley campaign will be posted in due course. We're all excited to see what the men can achieve in the next week!